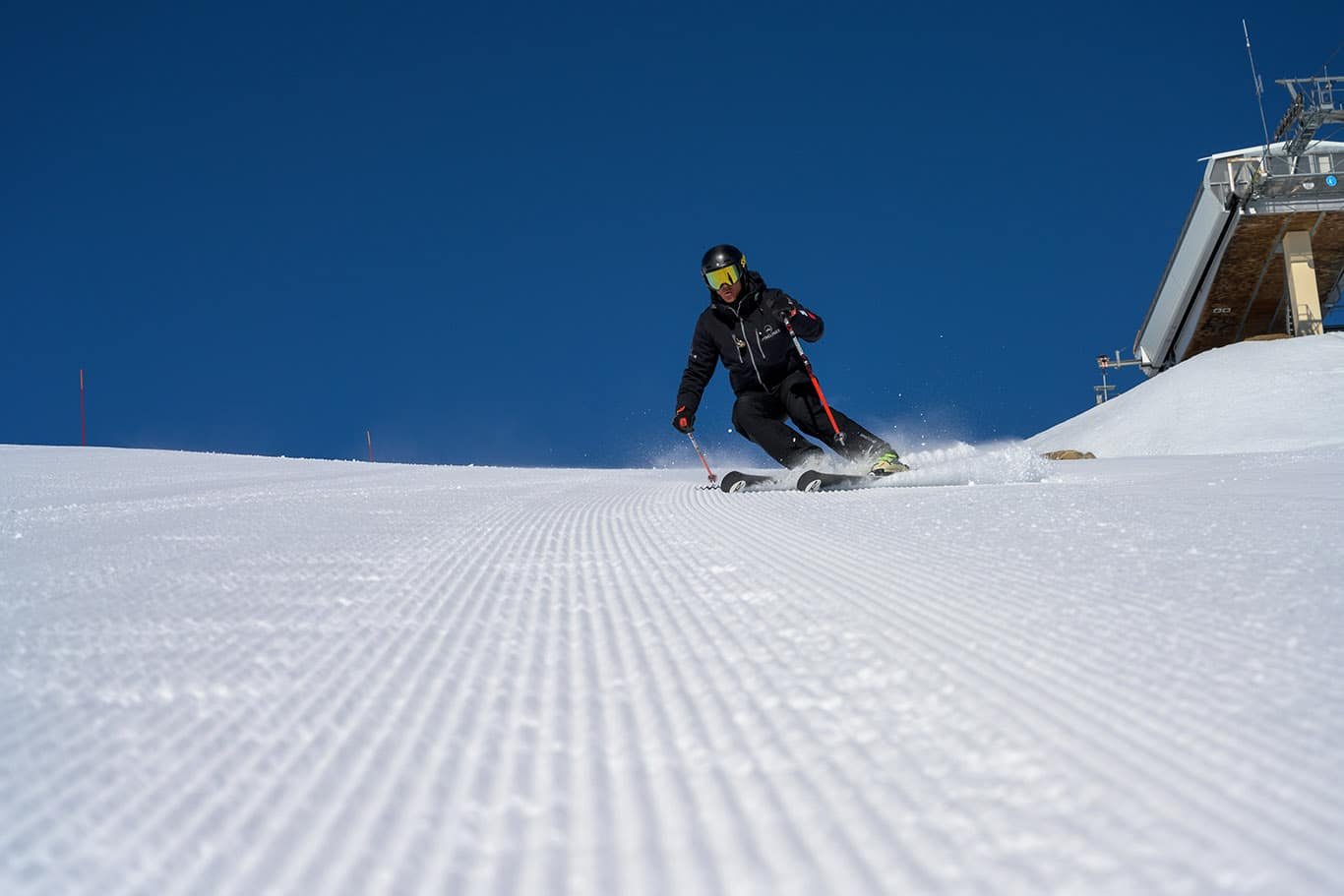 Embark on your skiing journey with Finelines.
It's time to clip on your skis and start on a new path to becoming a better skier.
Everything is taken care of in your private ski and snowboard lessons in Courchevel with Finelines, all you have to do is focus on your skiing.
Having private ski instructor Nick Woodhead lead your ski holiday is an absolute treat from the very moment he arrives at your chalet.
"the most incredible coach and mountain companion that anyone would be lucky enough to have in their lives"
Part of the Family
While you sip on a hot cup of coffee and finish your croissant, Nick is already checking the kids have suncream on and the correct amount of layers for today's weather conditions.
He even lends a hand to make sure your ski boots are comfortable and your skis are ready for action!
Then you're off with the whole family for a day on the slopes of Courchevel or if you're up for it, The Three Valleys.
Spend the morning perfecting your technique on quiet freshly groomed slopes for the best turns of the day. Nick's natural gift and love of teaching spreads continual enthusiasm giving you a thirst for more knowledge and exercises to build your technical skills.
Explore the best skiing around before magically arriving at the Pilatus just in time for refreshment. How about a slice of lemon meringue pie or a hot chocolate in the sun?
Now it's time to venture further into The Three Valleys, hitting the best spots at the perfect time of day thanks to over a decade of local professional experience in the ski area. Glide over the sunny softer slopes of Meribel or take a trip over to Val Thorens for some crisp cold skiing.
A secret slopeside restaurant awaits among the alpine trees ready to fill you up with local treats.
As the afternoon skis on, Nick's experience really shines through as he guides you back towards home before your legs become too tired.
If you've got the extra energy in the tank, time is of no issue. Sit at the summit of Saulire while the sun twinkles behind the jagged peaks on the horizon. Sip on a warming hot chocolate before one last ski down with the slopes almost completely to yourself.
What we love about Finelines is that Nick Woodhead brings the whole package. The whole family joins him on a ski journey. He helps children and whole families grow up on the slopes year after year.
"Nick is the most incredible coach and mountain companion that anyone would be lucky enough to have in their lives. He has turned our whole family into avid skiers with a never-ending appetite for more and equipped them with the technical ability to handle themselves anywhere on the mountain. How has it done it? By having this exceptional ability to make the complex, simple but do it in a way that is fun and dynamic. We love our days with Nick and the only problem is….they are never long enough. Having skied for 20 years, Nick is the best coach that we have ever been taught by. As you would expect, he is also now a great friend and central part of every trip to the mountain." – Chris & Lucie Jansen
If you're just looking for a ski instructor to show up on time and teach parallel turns, then look elsewhere. Finelines is this, and so much more.
Each day with Nick is a happy experience, you'll feel like he's part of the family by the end of the week.