Staying at Chalet St. Christophe with Alpine Infusion is quite simply a luxurious carefree chalet ski holiday, etched with elegance.
From the moment you enter into the bespoke world of Alpine Infusion, you'll be treated like a VIP.
Stepping out of your personal transfer you'll be amused and spoiled by Chalet St. Christophe.
The iconic stone bear greets you making a truly unique start to your ski trip.
Price from €35,000
---
It's time to relax in Courchevel 1850
As the grand doors open to your mountain home an expert and friendly team welcomes you in complete comfort.
Fall into a snug sofa with an afternoon tea or a warming Vin Chaud in front of the roaring fire with all your friends and family.
It's time to relax.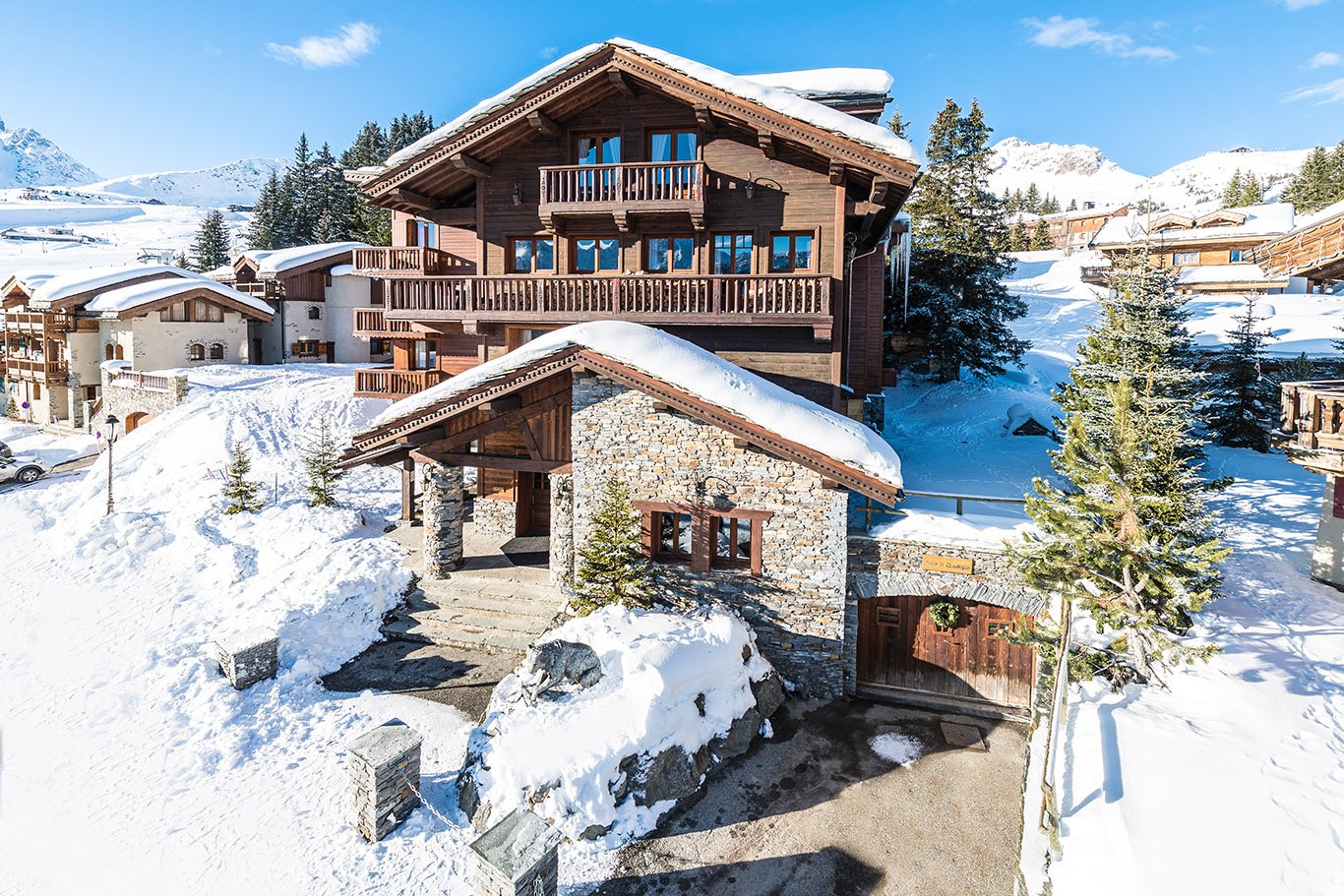 Your private chalet proudly sits on the elevated slopes of Courchevel 1850. Each morning you'll step straight onto the snow and ski the perfect wide-open slopes of The Three Valleys. Have a ski instructor meet you at the chalet or quickly hop onto the nearby Pralong chairlift to be first out on the slopes each morning.
Want to warm up or relax the tired ski legs? Slide into the indoor pool and melt into the sauna while others entertain themselves in the games room.
Each evening, convene in the open plan lounge to sip champagne, watch the sunset from panoramic windows and laugh with friends about the day's skiing.
All the while your appetite is building as heavenly scents flow from the kitchen where your chef prepares a unique gourmet menu. Perhaps classic alpine cuisine with a twist or a touch of unique flair to delight everyone for dinner.
As the uninterrupted stars pierce the dark mountain night skies, retire to one of 5 grand bedroom suites each beautifully and individually decorated, featuring king-sized beds, and connecting luxurious bathrooms.
What's included:
5 Bedrooms
10-12 people
In resort chauffeur
Catered with private chef
Ski in/Ski out
South facing sitting room
Dining room with an open fireplace
Jacuzzi swim spa & Sauna
Massage room
Complimentary bar
Table football & air hockey
HD satellite & terrestrial TV, DVD, video & CD players
Extensive DVD & video library
Ipod music system
Internet & wifi
Heated ski & boot room
In-chalet ski & snowboard equipment hire service
Laundry room
On-site private parking
Chalet St Christophe, Courchevel 1850
Chalet St. Christophe, Rue de Nogentil, Courchevel 1850, 73120, France
+44 (0)1844 344955