A selection of nearby airports, train station, or local altiport makes getting to Courchevel easier than ever
Getting to Courchevel is easy with a large range of airports to choose from including Courchevel's very own private airport.
Plus the journey from nearest airports like Geneva or Chambery can be made using shared transfer vans, luxury private vehicles to suit your every need or a helicopter for those wanting the ultimate Courchevel experience.
Keep reading to find the closest airport to Courchevel plus the best way to travel.
---
Nearest Airports to Courchevel


Geneva Airport
Geneva airport is the most popular airport for getting to Courchevel. It sits on the Swiss-French border providing a gateway to the wider French, Swiss and Italian Alps.
Its location means there is an abundance of regular international flights arriving in Geneva, particularly during the winter.
An airport transfer from Geneva to Courchevel generally takes around 2 and a half hours. The 170km journey by road is stunning as you pass into France, cruise around the majestic lake Annecy, and wind your way up in altitude before arriving in Courchevel.
Getting from Geneva to Courchevel is simple with a wide range of private and shared transfers available every day or even take a private helicopter into the Courchevel Altiport.
---
Chambery Airport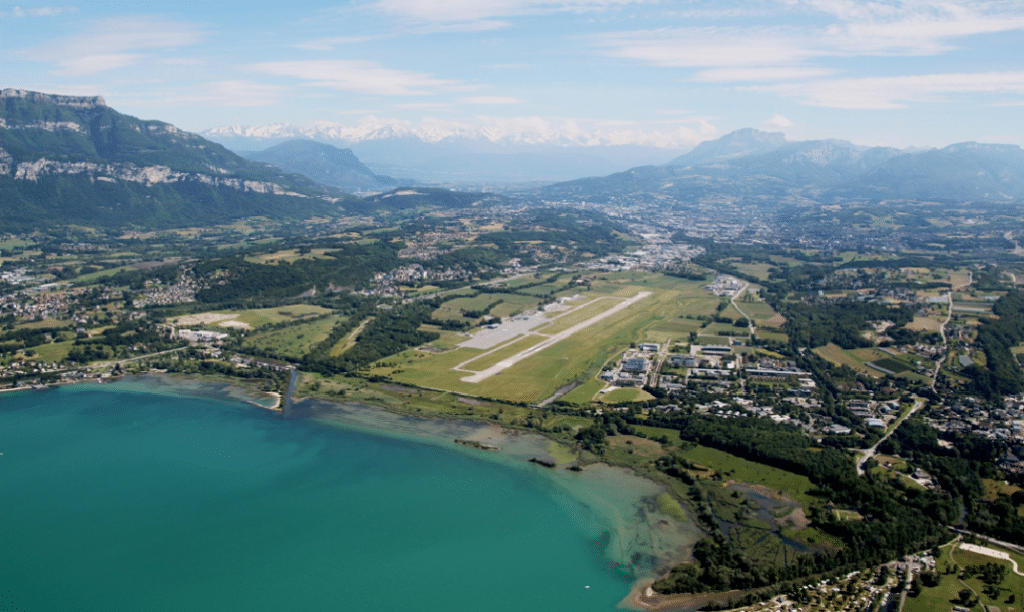 Chambery airport is the closest international airport to Courchevel and almost exclusively opens for skiers and snowboarders in the winter. Chambery nestles in the heart of the French Alps allowing you to arrive in Courchevel in under 1 hour.
The small airport offers fewer flights than bigger transport hubs but is perfect for those looking for an effortless ski holiday.
You can easily step into a private transfer and relax during the short journey. Or some even fly the 100kms over the snowy mountain peaks in a helicopter direct to Courchevel's altiport.
---
Courchevel Altiport
For the ultimate Courchevel experience, arrive directly at the private Courchevel Altiport.
One of the most incredible airports in the world, you'll land in a private jet or helicopter at 2100 metres in altitude and step out among the pristine ski slopes.
Your luxury chalet or hotel is less than 5 minutes away, usually your chalet can pick you up or simply get a taxi.
You'll arrive in time for some early warmup laps or in time to enjoy a dip in the spa and afternoon tea. Read more about Courchevel Altiport
---
Moutiers, Courchevel Train Station
Getting to Courchevel by train is growing in popularity with European and British travelers. It is particularly easy to get from London to Courchevel on the snow train.
The snow train leaves London St. Pancreas on Fridays, Saturdays and Sundays delivering you to the Alps just 8 hours later. No long security queues or baggage restrictions.
Plus Courchevel's train station is located in Moutiers (Moûtiers – Salins – Brides-les-Bains Train Station), just 20kms from the slopes. That means you can get a taxi or transfer to the ski resort in less than 30 minutes!
A beautifully simple journey. Of course, the train station also allows direct travel to Chambery and Lyon airports.
---
Lyon Airport
Lyon Airport is an often forgotten option for getting to Courchevel.
The transfer time is shorter than Geneva by road taking just 2 hours. The 182kms is all motorway, you'll speed along the highway into the alps watching the snowy peaks build before your eyes.
When looking for flights to Courchevel, it's always worth checking Lyon Airport although flights tend to be less frequent than Geneva during winter.
Of course, transfers are available from Lyon to Courchevel, you can happily book a private transfer to suit your needs.
---
Grenoble Airport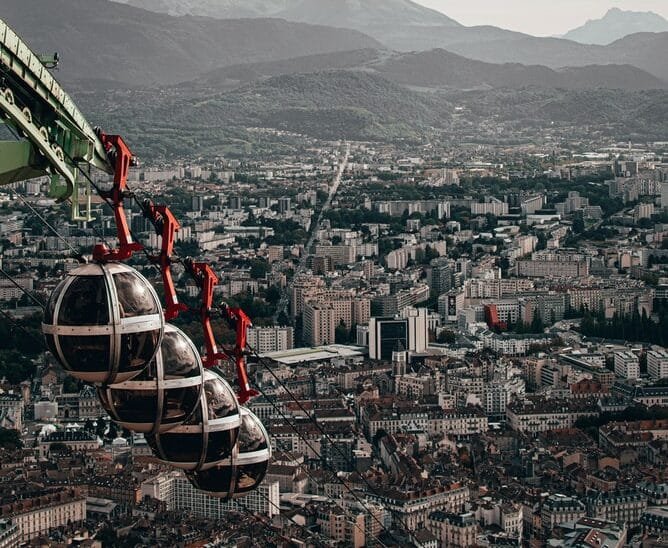 Grenoble Airport is more often used by skiers looking to access the Southern French and Italian ski resort like Serre Chevalier and Sestriere.
It still creates a pleasant airport to get to Courchevel. In fact, it is an underrated option residing 2 hours from Courchevel. The 182km transfer is quick thanks to well-maintained highways throughout the French Alps.
Shared transfers are less frequent compared to Geneva but you can easily book a private transfer to suit your needs.
---
Courchevel Airport Transfers
Any of the airports (and train stations) above are suitable for getting to Courchevel.
Shared transfers are regular in particular from Geneva. Private transfers can be booked to suit your needs from any local travel hubs within 3 hours of the ski resort.
Don't forget, to arrive in true Courchevel style you can even land at the Courchevel Altiport in the heart of the ski resort via helicopter or private jet.