If you're driving to Courchevel, you'll need to find a place to park.
Whether it's for a week or the whole season, you can't rely on street parking for your car!
Firstly, there is no long term street parking in the resort. Generally, you can't park on the road side for more than 45 minutes. In addition, when there is heavy snowfall the streets are plugged. If you leave your vehicle for a day or overnight, you risk being towed.
So before you arrive, make sure you have a plan for parking. All of the villages have indoor car parks which you can pay by the hour, day, week, or season. For long term parking (days, weeks, season) make sure to book online.
Here's a map showing the Courchevel cap parks:
Below you will find information on all the car parking in each of the villages. Plus you will find out about full season parking permits, where to book, free parking, and EV charging locations.
---
Parking in Courchevel 1850
There are two covered car parks in Courchevel 1850: Croisette and Bellecote.
Parking de la Croisette
Spaces: 320
Height limit: 2m
Location: Resort centre, direct access to slopes and shops
This is in the centre of 1850. As you drive through the middle of the village you'll arrive at the Croisette. This is the main lift station and central hub. It has a large underground car park. It is literally built under the ski lifts, so you can be on the slopes quickly during day or weekend trips. Plus you can book weekly/long term parking here too.
Parking Bellecote
Spaces: 220
Height limit: 2.40m on level 0, 2.20m on other levels
Location: Route de Bellecôte, Direct access to slopes, resort centre at 400m
Just a free hundred metres away from the centre is the Bellecote car park. This is a decent sized covered car park where you can pay and display or pre-book parking permits. It's built right on the side of the Bellecote green slopes so it's ski-in/ski-out parking.
You can also book seasonal spaces in Parking La Porte de Courchevel Parking des Chenus.
---
Parking in Courchevel 1650 Moriond
Parking choices are limited in Courchevel 1650, also known as Moriond. There is one undercover car park. Plus there's lots of street parking for upto 45 minutes.
Parking Cimes Blanches
Spaces: 460
Height: 2.10m
Location: Rue du Marquis Resort centre, direct access to slopes and shops
This is a large car park with ample space most of the time. It's right in the heart of the village. It's right next to the tourist office and slopes. As you enter the village, turn left at the second roundabout and it's on your right. The car park is built under the buildings and snow front. It's easy to get lost inside! You can pay on arrival or book a long term stay. It's very popular for seasonal parking.
You can also book seasonal spaces in Parking de Moriond which you'll see at the entry to the main village.
---
Parking in Courchevel 1550 Village
Although Courchevel 1550, also known as Village, is a small resort, it has two covered car parks. This means there's always a spot to leave your car just metres from the slopes and village centre.
Parking Des Grangettes
Number of spaces: 166
Height: 2,10m
Location: Rue des Rois, Direct access to slopes and resort centre
As you enter the heart of the village the first thing you see is Parking Des Grangettes. It's got well over a hundred spaces, but can become busy on weekends. It's right next to the Grangettes gondola which takes you into 1850 in a few minutes. You can turn up and pay hourly or prebook spaces for long term stays.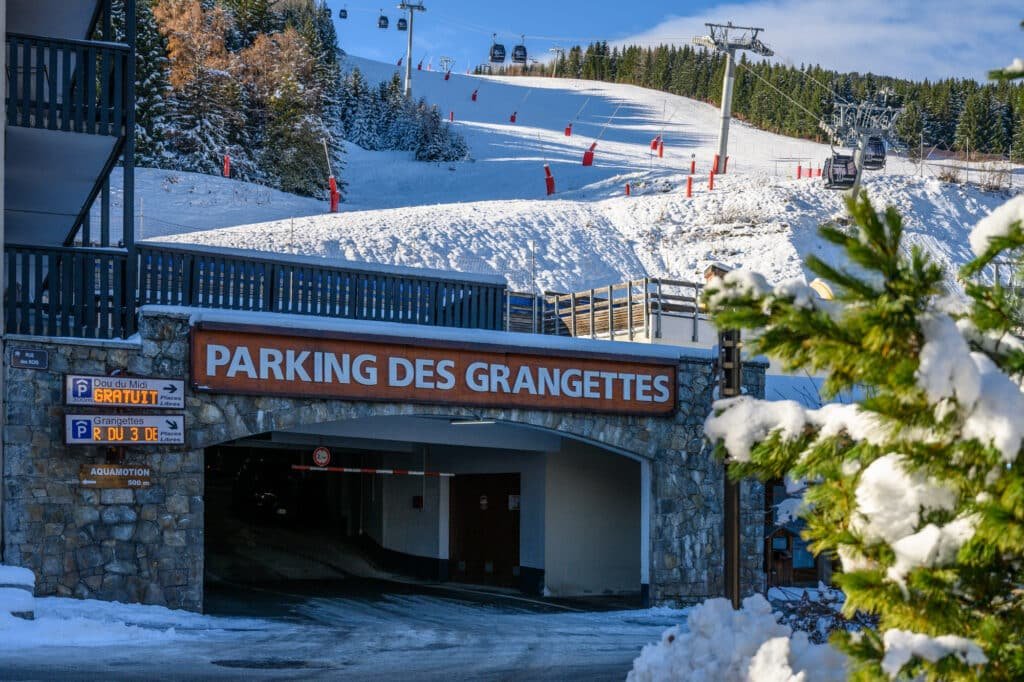 Parking Dou du Midi
Number of seats: 220
Height limit: 2.10m
Location: Rue des Rois, Direct access to the slopes and shops, resort centre 200m.
Dou du Midi, is located at the end of the village. Drive through the main street past the Grangettes parking, ski lifts, and shops until you get to the roundabout. The car park is on your left. It's always got plenty of space. The walk to the slopes is a couple hundred metres. It's a useful car park when staying up the Brigues road. You can pay by the hour or book long stay spaces.
---
Parking in La Praz
Le Praz is a busy little mountain village, especially on weekends. It is the lowest resort with a lift link. This makes it popular with day trippers and locals. The good news is that there is lots of parking. This includes a large car park in the Alpinium lift station.
Parking de l'Alpinium
Spaces: 500
Height limit: 2.40m
Location: Alpinium building, snow front, lift access and village centre
As you drive through Le Praz you can't miss the large Alpinium building on the snow front. Turn off the main road towards the building to access the car park. It's huge with 500 spaces, so you should find a space. From here you can take the Le Praz gondola to Courchevel 1850 in 7 minutes. Or ski straight onto the Foret chairlift. If you're staying lower down the mountain in Saint Bon or Bozel, this is the best place to park. You can pay by the hour or book long stay options.
You'll also see another outdoor car park as you pass the lake and exit the village. It's on the left hand side and provides an overflow if necessary. You can also book seasonal spaces in Parking de l'Or Blanc.
---
Free Parking in Courchevel
During the winter there is very little free parking around the ski resort. You should check your accommodation to see what is available. Many chalets, hotels, and apartment blocks have their own car parks, but you should check before you arrive!
Short term free parking is available in the villages. This is usually restricted to 15 – 45 minutes. Don't overstay as you'll be quick to get a parking ticket. If you leave a car here overnight, it can get towed!
The main indoor car parks provide free parking for the first 45 minutes. Plus are completely free outside of the ski season. So you can use them for free in the summer.
If you're staying outside of the village centre, you might be lucky enough to find unrestricted roadside parking. But check carefully to avoid being towed.
Fun fact: One thing to look out for in Courchevel is heated driveways. The most expensive chalets are heated under the tarmac to keep them clear of snow and ice.
---
Long Stay / Seasonal Parking Permits
You can now book long stay parking permits online. If you want to park for multiple days or weeks, you'll need to do this. Otherwise it will cost you a small fortune.
You can pay for a full season parking permit too. This usually costs upwards of 400 euros depending on the car park. Bringing your car for the season will be a problem without a parking permit. You'll constantly be moving it to avoid tickets, towing, or being buried in snow. It's best to pay up and keep it safe in a covered car park.
---
Electric Car Charging
There are more and more EV charging points being added to Courchevel. You can find charging spaces in Alpinium (Le Praz), Dou du Midi (1550), Cimes Blanches (1650), Croisette (1850), and Bellecote (1850). Some of these even offer free charging all winter. But spaces are very limited so don't run your batteries too low.
---
Where to Park in Courchevel Summary
I hope this article gives you a clear understanding of parking in Courchevel.
Each of the villages has purpose-built car parks which are just a few metres from the slopes. If you're driving up from Sait Bon or Bozel each morning then you're best to stop at Le Praz and jump on the lifts.
The main car parks offer flexible options where you can pay by the hour or book longer stays by the day or week. Plus buying a parking space/permit for the season is available in multiple locations across all the villages. Make sure you prebook your long stays online. It will cost you a lot to pay by the hour for more than 1 day.