Getting around Courchevel is easy using the free ski bus, lift system or choice of private cars.
*Please note, the bus timetable changes throughout the season. Above is the current schedule. See below for links to schedules for different dates and everything in one PDF.
Bus Time Table Download:
Getting around Courchevel is easy with a wide selection of transport depending on your destination and budget.
You can use the free ski bus route to get just about anywhere late into the night, jump on the modern lift system connecting the villages or book your own private driver for a week.
---
Courchevel Buses
The bus in Courchevel is free and designed to make it easy for skiers to get around. The main bus route runs from early in the morning until well past midnight.
The main Courchevel bus route runs from the valley floor of Bozel up to 1850 via Saint Bon, La Tania, Le Praz, Village (1550), Moriond (1650) before arriving in the heart of Courchevel 1850.
During the winter the bus runs regularly from each village, roughly every hour from La Tania, every 30 minutes from Le Praz and Village (1550) and every 10 minutes between Moriond (1650) and 1850. There is just one road up and down the mountain so it's hard to get lost. You may sometimes need to change at the Aquamotion stop to continue up and down the hill.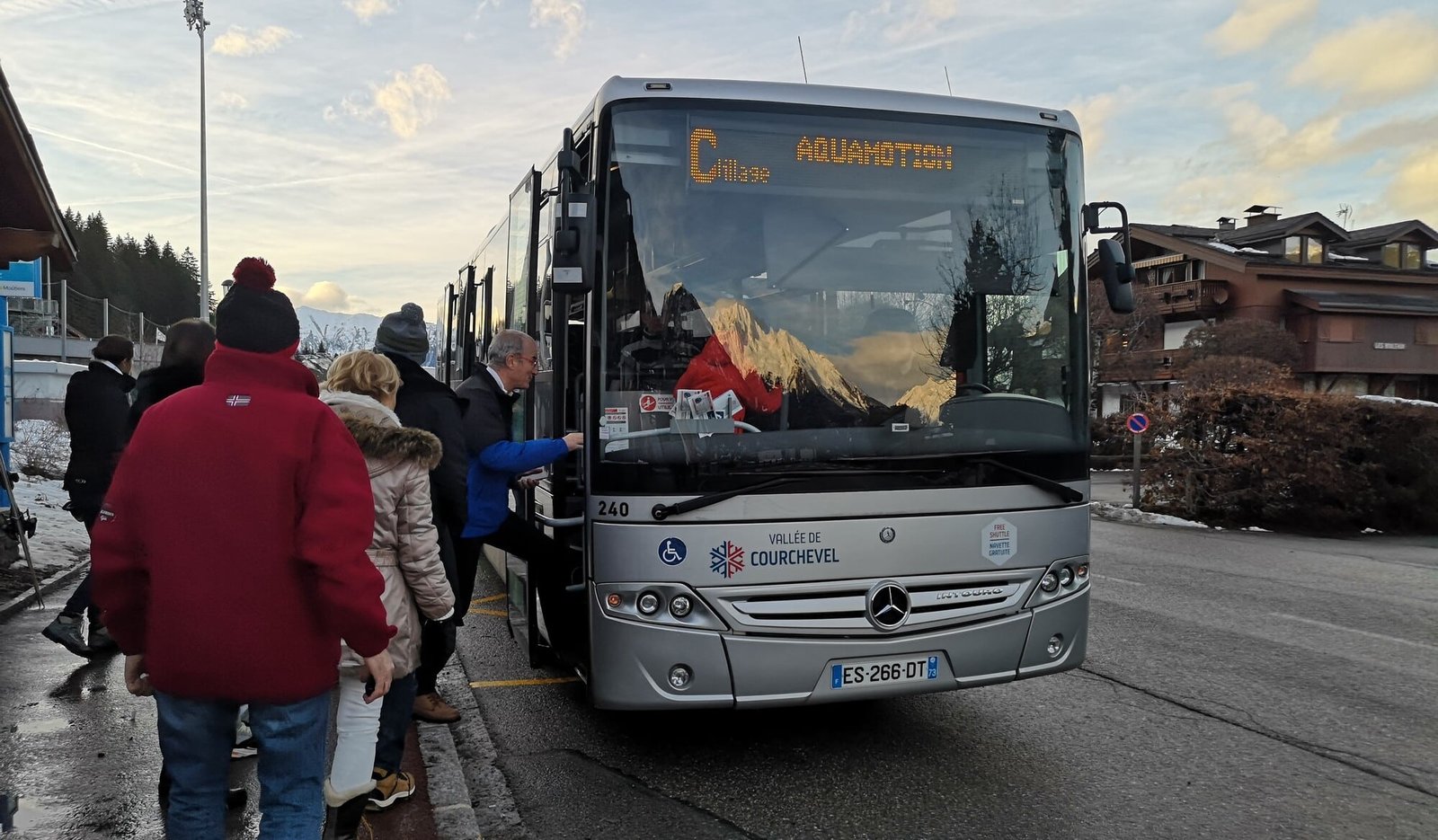 You can check the Courchevel bus timetable for complete up-to-date routes and times or even use this live bus update to show the next buses. Live updates are also shown on digital screens at all major stops.
Smaller ski buses also help you get around each Courchevel village. In 1850 you can use buses to get from your accommodation to the centre of town. So it's easy to get up and down from areas like Jardin Alpin, Altiport, Bellecotte and Chenus.
Moriond (1650) has a bus running from the centre up to Belvedere. Village (1550) has a bus running through the area and up the Brigues road where many chalets are located.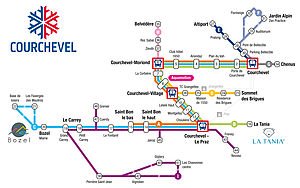 ---
Pedestrian Ski Lifts
Courchevel's network of modern ski lifts is also on hand to help you explore, even if you are not skiing.
The Jardin Alpin gondola in Courchevel 1850 runs in through the day into the evening with several different stops so many chalets and hotel guests can use this to get into and out of town.
Grangettes gondola in Village (1550) serves as a link to Courchevel 1850 from 7.45am until 11.30pm so you can move easily between the town ski villages on foot throughout the day.
The updated Le Praz gondola enables you to travel between Le Praz and Courchevel 1850 in just 6 minutes. It's open from 7.45am until 11.30pm for pedestrians to travel up and down the mountain.
---
Luxury ways to get around Courchevel
Of course, the Courchevel bus is not always convenient or to everyone's tastes. Plus it can get particularly busy during peak weeks!
Most hotels and luxury chalets also provide transport services to help you get to and from the slopes. If you're staying a little out of town then they'll also happily drive you into town for some retail therapy or other activities.
Taxies are available too at all hours of the day and night so you can still get around even if you miss a hotel shuttle or it's your driver's day off.
To get the most out of your ski trip to Courchevel then it's time to ride in style with your private driver and vehicle to match.
If you love cars then you'll love Courchevel's snowy streets packed with iconic brands including Rolls Royce, Bentley, Mercedes, Tesla.