Shop duty free with the most exclusive brands.
Slide on a signature ski jacket, glint like a snowflake in unique jewelry, and inspire a new you this winter.
For boutique shopping lovers, Courchevel awaits with over 40 designer stores lining the snow-covered streets.
Stroll along the sparkling Winterland of Avenue Montagne, dipping in and out of wherever takes your fancy.
Pick your own 'Courchevel style' as you explore from Chanel up through the twisting streets passing Prada, Louis Vuitton, Moncler, Hublot, and more before disappearing into the Espace Diamont.
Shopping in Courchevel means exclusive boutiques at every stop.
Keep reading to discover everything Courchevel shopping has to offer.
---
Boutique Shops in Courchevel 1850
As you walk up the astonishing Avenue Montagne you quickly come to the entrance to the Espace Diamant. Step into the heart of the mountain where the most treasured jewels lay. 25 jewelers keep their secrets hidden here. Spend your afternoon discovering the perfect gift for someone special or treat yourself to a truly unique piece.
Boutique Shops:
Chanel
Moncler
Hermes
Louis Vuitton
Fendi
Dior
Prada
Gucci
Hublot
Valentino
Padischa
Bernard Orcel
BLU&BERRY
---
Jewellery Shops in Courchevel:
---
Ski-Through Boutique Shopping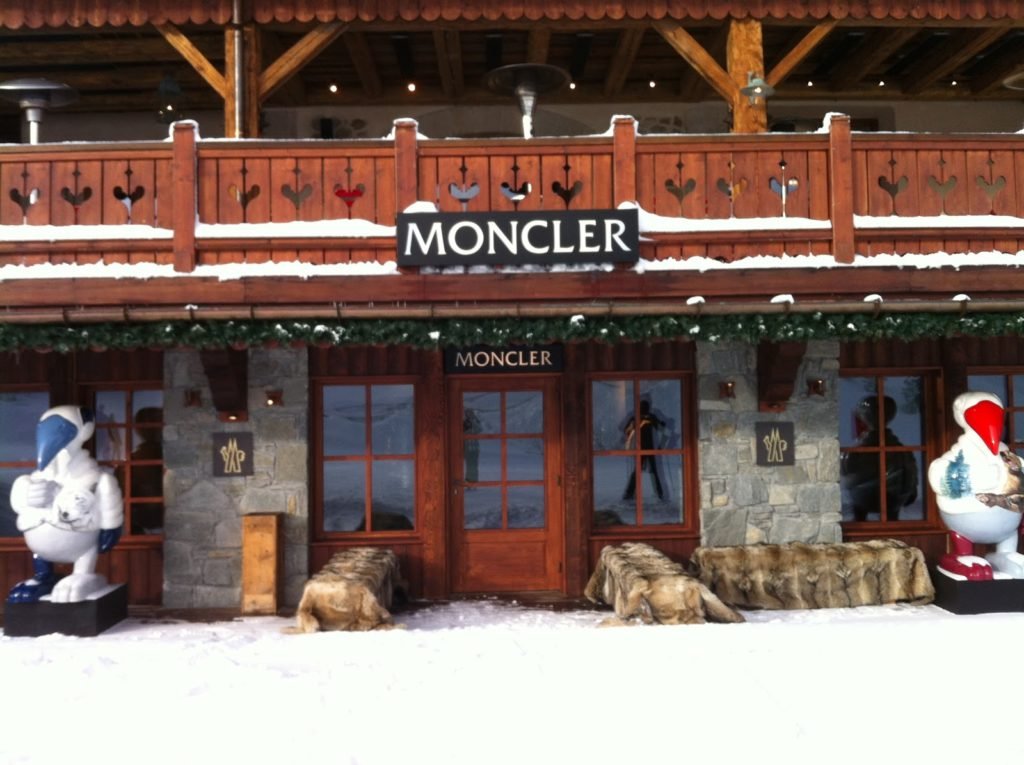 Did you know you can even shop on the side of the ski slopes?
That's right, if your two passions are retail therapy and skiing then you really are in heaven.
Enjoy a mellow ski down the Verdons green run which runs from the top of the Verdons gondola back to the 1850 snow-front. Keep your eyes peeled as you ski into the trees and pass Chalet de Pierre restaurant. Just below on the snow is the slopeside (ski-in/ski-out) Moncler shop.
It's as close to 'Ski-Through' boutique shopping as you can get.
---
Luxury Ski Shops in Courchevel
Let's not forget that Courchevel is a ski resort filled with luxurious ski shops to fulfill all your equipment and apparel dreams. You'll find everything you need to perfect your winter outfit, get the best out of your skiing and look on-fleek at apres-ski.
Looking to buy your own custom-fitted ski boots and skis? Jean Blanc Sports is a historic local ski shop offering bespoke ski setups and rental. Bernard Charvin, L'Atilier and Ski Set Chamois also provide stunning ski rental. Snowboarders, you can lose yourself in a world radical toys at Endless Winter.
For the full VIP treatment have your ski rental delivered and custom fitted in your luxury accommodation.
---
Duty Free Shopping in Courchevel
In France, all retail products are sold with a 20% Value Added Tax (VAT). However, non-EU residents are eligible to claim a refund on VAT on purchases over €175.
Happily, Courchevel's Avenue Montagne is included in specific tax-free shopping rules only found in a few places outside of Paris.
You can save hundreds or thousands of Euros as you fill your bags in high-end ski stores, brands like Dior and Chanel, and other winter-themed pop-up boutiques during the winter.
Be sure to ask shops for VAT-free shopping options and correct documents to claim any refunds.
---
General Information
As Courchevel is classed as a seasonal tourist area, shops are able to open 7 days a week meaning you can shop all day on Sundays. General opening hours run from 8.45am until 7pm. These times can vary from shop to shop.
Also, be aware that many shops close during lunchtime so it is best not to plan any shopping sprees during 12h00-15h00. We recommend shopping in late afternoon and evening as Courchevel lights up during sunset.
---
Local Markets
Courchevel hosts a regular market every week generally on Wednesday. The small market is located below the main Croisette lift building.
You'll find a range of local treats including cured meats and cheese, regional liqueurs like Genepi, classic souvenirs, and a selection of winter garments.
---
Something to eat?
Ready to take some refreshment during your shopping trip?
Then why not relax at one of Courchevel's exquisite restaurants.
Michelin Star or a Local Favourite, what do you fancy?