In need of some pampering? As the last word in high-altitude luxury, Courchevel is home to dozens of stylish, well-appointed spas.
Whether you want a deep tissue sports massage, a high-tech LED facial, or simply to take in the Alpine scenery while relaxing in a bubbling jacuzzi, there's no shortage of indulgent options available.
Here's our list of the five best spas in Courchevel that are open to all. Just remember that the hotel spas are often reserved for hotel guests after a certain time, so it's best to arrive early to get the most out of your Courchevel spa experience!
---
Aquamotion, Courchevel 1550
With its indoor and outdoor pools, water slides, fitness classes, and climbing wall, Aquamotion is the place to go for indoor activities in Courchevel.
The futuristic, wave-shaped structure also houses a large wellness area with indoor and outdoor pools, jacuzzies, a soothing salt pool, steam rooms, and no fewer than three saunas set to different temperatures, with the hottest one kept around 95 degrees.
Highlights include lying back and gazing up at the sky while your aches are eased away by the massage jets in the big outdoor pools, and the evening aromatherapy sessions, during which essential oils are piped into one of the saunas, costing from just €17.
For a special treat, meanwhile, you can combine a visit to the spa with a treatment from the centre's extensive list, which includes hydromassages, facials, and waxing, and can be followed up with a complementary herbal tea at the in-spa bar.
+ Spa-only entry available (from €39)
+ Indoor and outdoor pools
+ The adults-only policy ensures a peaceful experience
Read full in-depth review of Aquamotion
---
Six Senses, Courchevel 1850
Spacious and fragrant, the luxurious Six Senses spa is designed to cater for external clients as well as those staying at the Six Senses residence in Courchevel 1850. 
As such, it's one of the few top spas in Courchevel that you can access without booking a treatment.
Facilities include a large indoor pool with jacuzzi area, a steam room, two saunas set at 65 degrees and 85 degrees, an outdoor hot tub, and an intriguing reflexology-inspired "Kneipp foot bath therapy" feature that involves walking over pebbles while your legs are alternately sprayed with warm and cool water. It's a bit like taking a short stroll along a pebbly beach!
Fitness and wellness classes are available, and there's a full range of refreshments on the menu, including detoxifying teas to maximise the health benefits of your visit and champagne to up the indulgence factor…
Treatment-wise, the emphasis is on individual results; clients are invited to concoct their own personal blends of scents and active ingredients at the in-spa Alchemy Bar and the treatment list includes biohacking and dry needling sessions, as well as non-surgical face lifts.
+ Spa-only entry available (€75, until 4pm)
+ Juice and wine/champagne bar service
+ Children welcome (specialist treatments on offer)
---
Le Chabichou, Courchevel 1850
The 1,100m2 spa located below the 5* Chabichou hotel is refined, comfortable, and fitted out with everything you need for a truly Zen relaxation session, including a good-sized swimming pool, a steam room, an 80-degree sauna, an "invigorating" ice fountain, and a sensory shower.
There's also a tranquil salt room designed to offer the respiratory benefits of being by the sea, and a chilly plunge pool that will get your senses tingling after a steam or sauna – if you're brave enough to take a dip!
Unlike many of the top spas in Courchevel, it can be accessed without booking a treatment; entry is €55 or from €90 with a two-course lunch.
But if you feel like spoiling yourself, treatments are performed using Sothys Spa products and range from massages to manicures via a list of ministrations conceived for children (who will love the water beds you get to relax on afterwards).
+ Spa-only entry/lunch + spa deals available
+ Plunge pool and ice fountain
+ Children welcome (until 5pm)
---
L'Annapurna, Courchevel 1850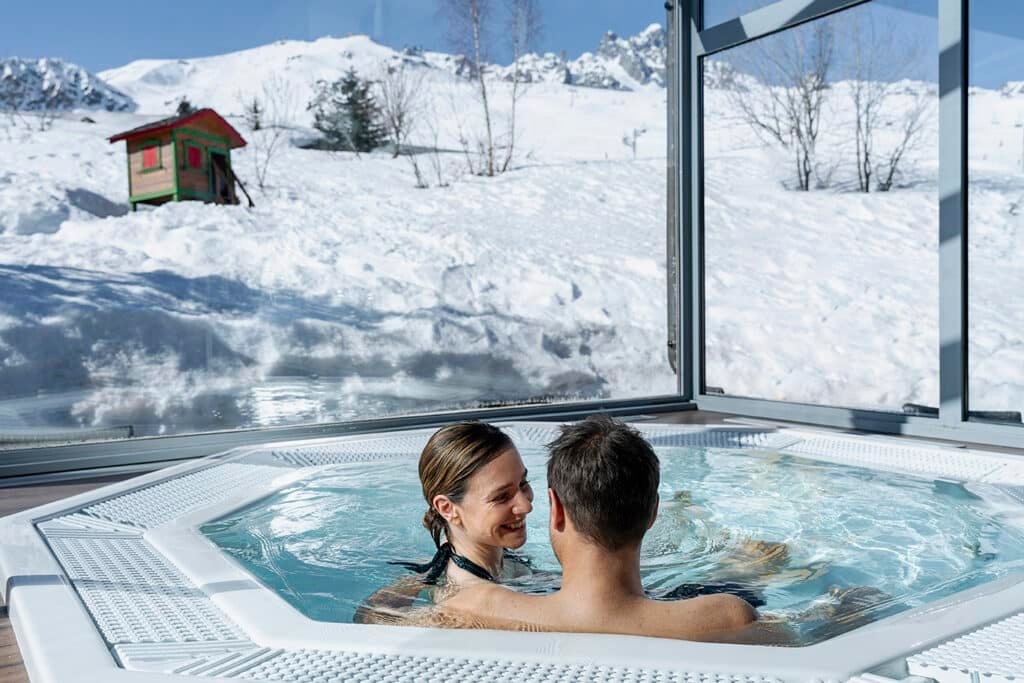 Perched high above Courchevel 1850, the Annapurna is a family-owned 5* hotel with a magnificent, modern spa featuring a 15m indoor pool, an attractive outdoor pool, two steam rooms, a sensory shower, and a peaceful relaxation room with detoxifying waters and herbal teas on tap. 
You'll need to book a Spa by Codage treatment to get in, and when you do, your first port of call will be the Codage Paris laboratory, where the products used in your treatment can be tailored to your desires and skincare requirements.
The "quality over quantity" list of options includes a cellular work out facial, massages for both adults and children, and a range of manicures and pedicures.
And once you're done, you can enjoy a tasty cocktail while watching skiers swishing down the adjacent piste as you relax in the heated outdoor pool or one of the spa's two saunas.
+ Indoor and outdoor pools
+ Customised treatments
+ Children welcome
---
La Sivolière, Courchevel 1850
The recently renovated Sivolière hotel spa is an elegant 5* palace nestled in the trees next to the Dou-du-midi Piste. 
Its spa treatments are available to external clients as well as hotel guests and include a good range of traditional massages and beauty treatments, as well as a few out-of-the-ordinary options, such as Ko Bi Do anti-aging facial massages and cutting-edge LED Phototherapy sessions.
The Sivolière wellness area, meanwhile, is blessed with lovely, peaceful, mountain views, and boasts a good-sized pool with a counter current jet for those keen to have a proper swim, a jacuzzi, a steam room, a sauna, and a fitness room.
Treatments are performed using Scentiana products, which were chosen for their combination of efficacity and high levels of natural active ingredients: "the best of both worlds".
If you book one, you can also use the hotel's free navette service (within Courchevel 1850) or car parking service to get there and back – although I'd suggest savouring a delicious beverage in the very chic hotel bar before you leave!
+ Beautiful views
+ Counter current swim jet
+ Unusual treatments available
---
Courchevel is the ultimate destination for those who seek high-altitude luxury and indulgence. It is home to numerous spas that are catering to all types of relaxation, whether you're looking for a deep-tissue massage or a rejuvenating facial. From the futuristic Aquamotion with its indoor and outdoor pools, to the luxurious Six Senses spa that offers biohacking and dry needling sessions, Courchevel is an Alpine paradise for spa-goers.
Le Chabichou offers access without booking a treatment and features a range of amenities, including a steam room, plunge pool, and a sensory shower. Meanwhile, L'Annapurna provides customised treatments tailored to your desires and skincare requirements.
No matter if you're a guest at a hotel or simply looking for a relaxing spa day, alpine pampering and relaxation awaits.