Relaxation, adrenaline, family fun or nature, there's a little something for everyone.
Courchevel is much more than just a ski resort, it's a complete winter experience. Once you're done with skiing there's a never-ending list of things to do in Courchevel. We couldn't put them all into one page so here are 9 unmissable activities in Courchevel.
Whether you're after relaxation, adrenaline, family fun, or nature, there's a little something for everyone.
Moriond Luge Racing
Take on the 3km long 'Grand-Prix style' toboggan run with all your friends and family. Grab your goggles and head up the Ariondaz gondola, in Courchevel Moriond. At the top, you'll find the start line to the fun and fantastic luge track. Grab a sled and zoom down the twisting corners and 8 underground tunnels. Let the brakes go on the high-speed straights and test your skills through the snaking zig-zags.
Don't forget to smile as you pass the cameras and collect a photo at the bottom. A perfect sunny afternoon activity or even floodlit on Tuesday and Thursday evenings.
---
Aquamotion
Relax in the state of the art swimming pool and spa, nothing is more tranquil. Melt into the Aquawellness spa with a saltwater pool, sauna, steam room, caldarium plus indoor and outdoor pool heated to 32℃. The perfect escape on those cold snowy days.
For the more energetic jump headfirst into Aqualudic's indoor and outdoor pools, complete with slides, diving pools and a wild river. Its fun, splash and thrills galore especially if you try out the indoor surfing! Read our in-depth review of Aquamotion here.
---
Snowshoeing
Explore the mountains at a slower pace. Let's clip on our snowshoes (racquets – like tennis rackets for your feet) and float above the pristine natural snow. Head into the trees of Courchevel, away from the rest of the world. Here you'll find your own little slice of winter heaven, glistening like a diamond in the sun.
On your journey, you'll delight at the calming streams, glinting ice crystals, and wild animal tracks. Escape into the natural world whether you're a leisurely walker or seasoned hiker, your perfect itinerary awaits…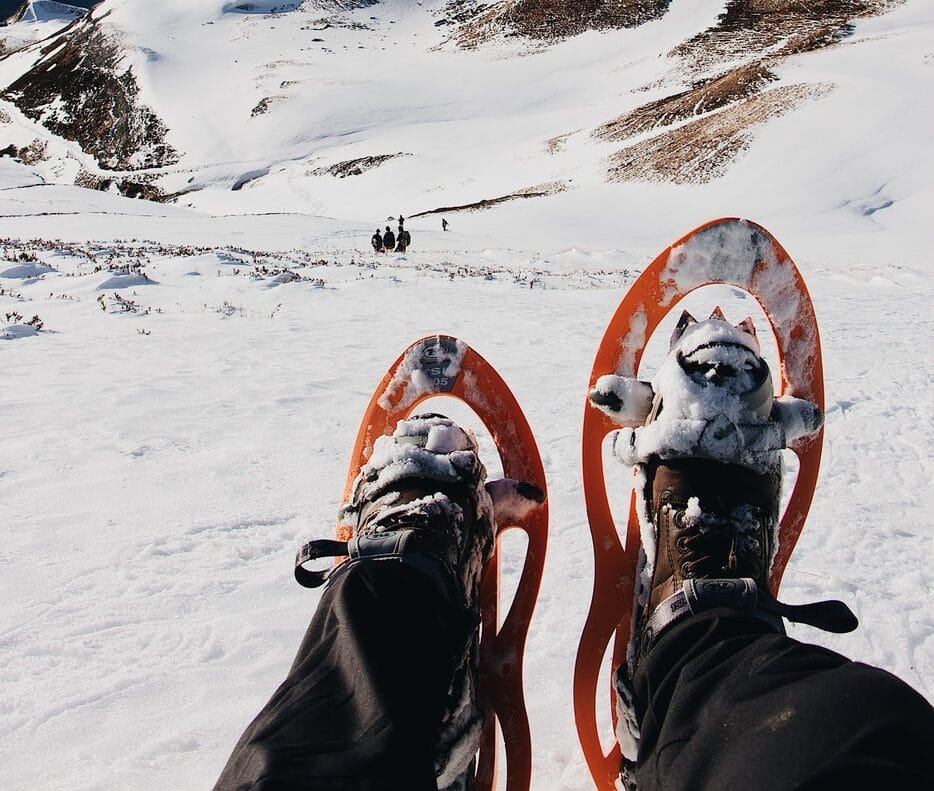 ---
Build Your Own Iglu!
Embrace the magic of winter and embark on a truly enchanting adventure in the French Alps! With snowshoes on your feet and a skilled Mont Blanc Experience guide by your side, explore the snowy trails of the Tarentaise Valley and discover the art of igloo building.
Using specialized tools and a high-performance pulka sled to transport materials, you'll learn the ins and outs of constructing your very own igloo from the ground up. And as you work, your guide will share insider secrets and tales of facing the cold, all while warming up with a hot beverage. Don't forget to bring your warmest clothes and boots! Experience the magic for yourself in and make memories to last a lifetime with this one-of-a-kind winter adventure.
---
Dog Sledging
Take charge of your own pack of huskies or ride with a professional musher (that's a person who drives dog sledges). This is a true back to nature adventure as you travel through the trees, slopes, and valleys of the local scenery.
Pick from a gentle ride as you sit back and enjoy the panoramas or choose some adrenaline-fuelled action as you tackle the true mountain terrain. Out of all the things to do in Courchevel, dog sledding is truly unique.
---
Snowmobile
If engine power is more your style then this one is for you.
Once the lifts close, use a caterpillar track equipped snowmobile with skis for wheels to carve your way around the winter landscape. It's your personal playground for the evening. Drive your own vehicle, under expert instruction, along graceful trails or blast through untouched powder.
You'll experience nothing like effortlessly cruising through the mountains as sunset fades into the moonlight. If you're lucky you'll even catch a glimpse of Mt. Blanc.
---
Lac Rosiere
Visiting the unmissable, magical, lake that truly comes alive in winter and spring. Saunter around the tranquil shores of the azure lake, disappear into the snowy woodland trails and stand in awe of the miraculous icicle covered cliffs.
Lac Rosiere sits hidden away in the valley below Courchevel Moriond, as is one of the best-kept winter secrets in the area.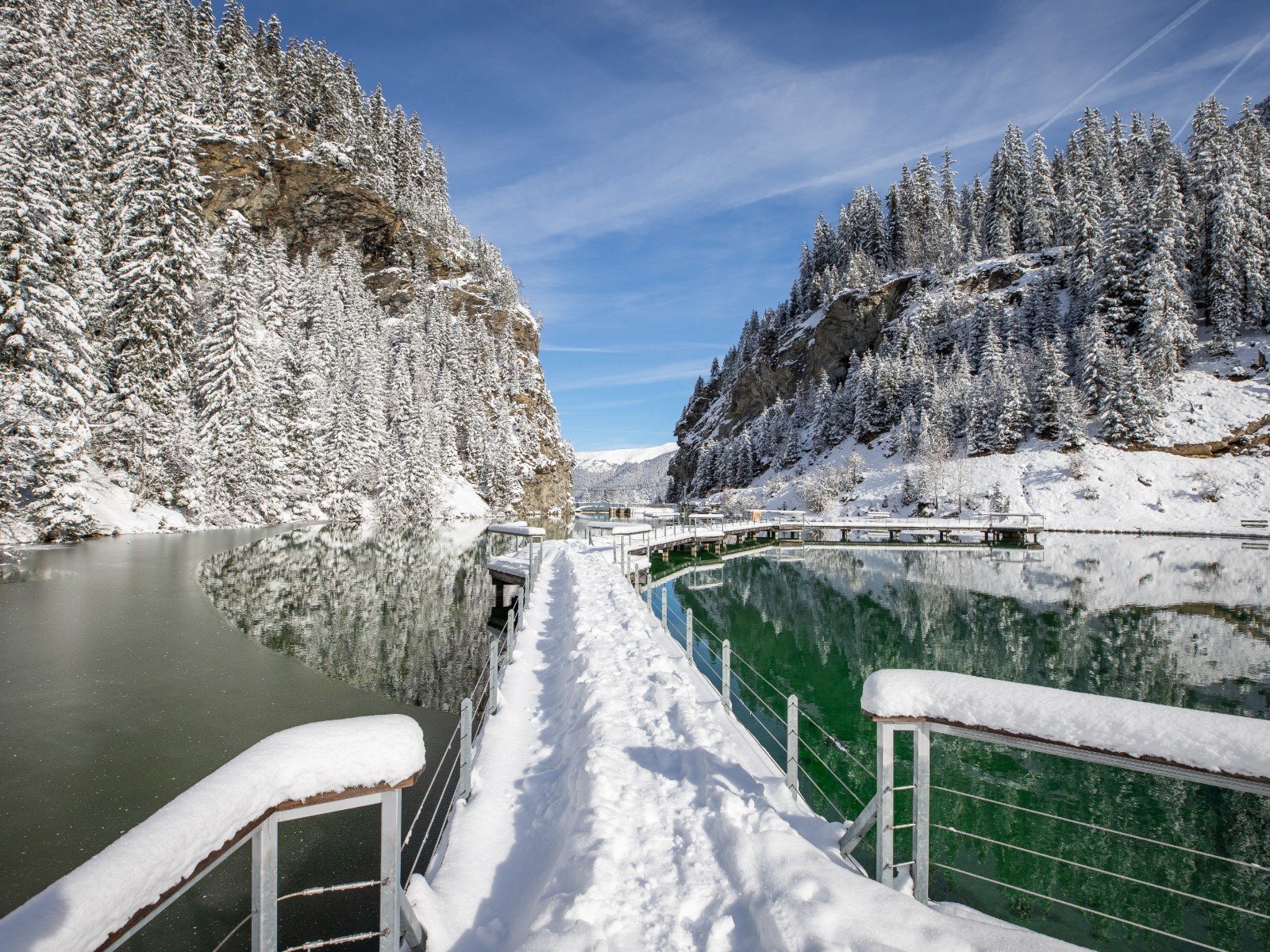 ---
Hot Air Balloon
Take to the skies in your own personal hot air balloon. The most serene and peaceful way to see Courchevel and far beyond. A bucket list item stays forever in your memory.
Fly with the wind for 1 or 2 hours and see new worlds unfold before your eyes. Nothing is better than floating the crisp calm mountain skies at sunrise. You'll see the snow-covered forest below and even the wildlife as you silently watch a hidden world from above.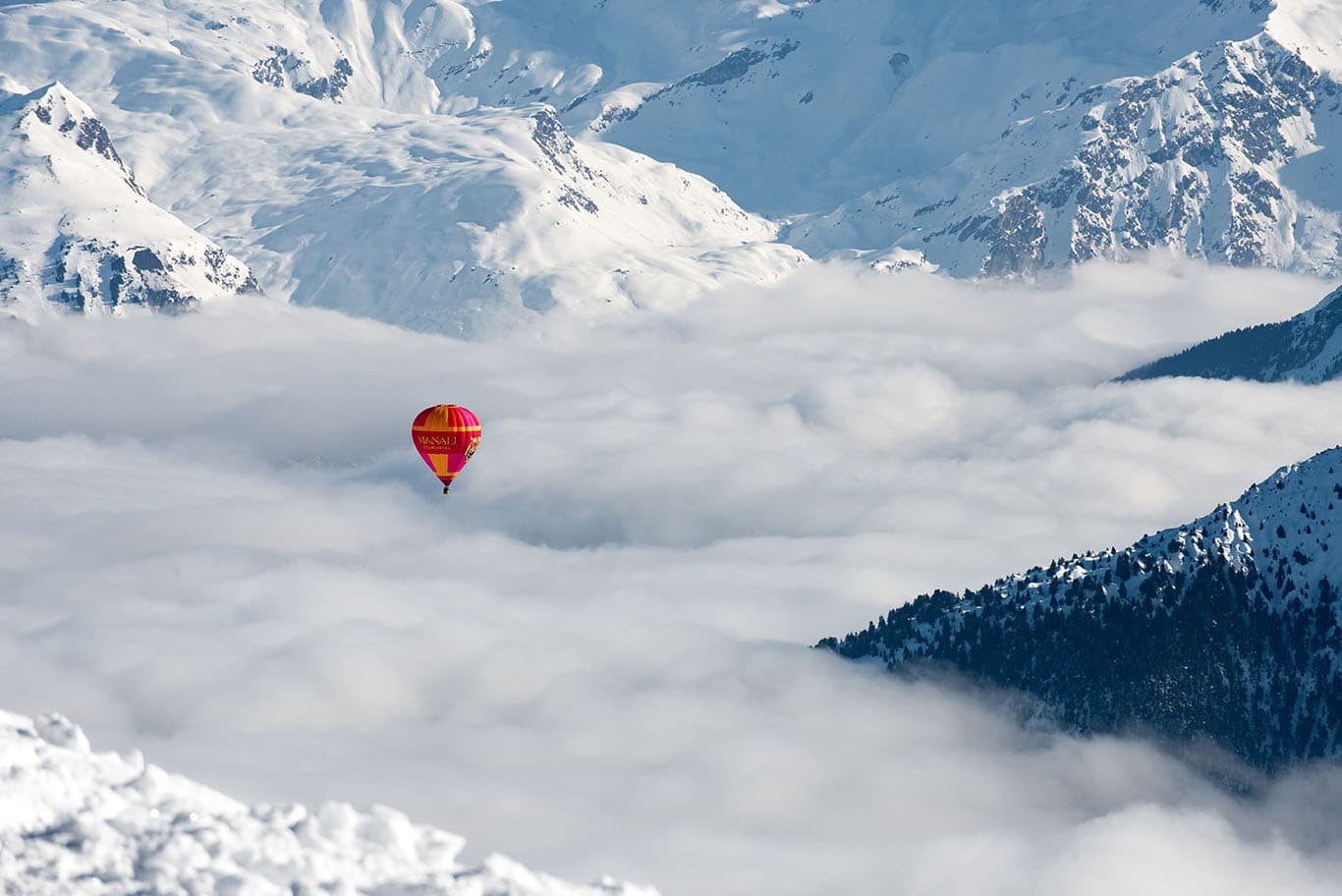 ---
Paragliding
Jump into the skies and find a new way to descend with just a parachute. Feel the ultimate freedom of flight, accompanied by your pilot. Swoop and spin for extra adrenaline or even fly to the cheers of the crowd at your favourite apres-ski spot.
It's time to explore the mountain from a new perspective with the swirl of the wind and thermal lift until you safely touch down at the foot of the slopes.
---
Ice Rink
Add to your winter experience with some more ice. Courchevel's Olympic sized ice rick is open for you to strap on the skates and glide across the ice. It's all the fun you've come to expect with ice skating plus more.
Keep an eye out for regular shows and events including Courchevel's very own ice hockey team which regularly welcomes opponents in competitive ice hockey matches.
---
There's never a dull moment or a lack of things to do in Courchevel. If you're not skiing and ready to venture out from your ski chalet, there's still plenty to do on and off the snow for non-skiers. Zoom around the mountains on sledges, dog sleds, and snowmobiles. Escape the world with snowshoeing, Aquamotion, and scenic tours. Or take to the skies to see things from a different perspective.
Courchevel is whatever you want it to be.