There's so much to do with kids in Courchevel.
Of course, activity number 1 is skiing, whether your children spend their time in ski school or you are struggling to keep up with them on the black slopes.
Once you've finished on the slopes or a storm makes the mountain uninviting, there's a wealth of fun to be had elsewhere.
Truth is: Courchevel is so much more than a ski resort, it's a winter wonderland with thrills, relaxation, and laughs to be had around every corner.
So let's discover all the best family friendly adventures including toboggan racing, water slides, teepees, and cheesy fondue.
---
Tobogganing
Toboggans, or 'luge' in French, are epic fun for all ages. Like everything else, Courchevel does this on a bigger and better scale.
There's two luge tracks to choose between. Moriond Luge Racing is in Courchevel 1650. It's a purpose built track with a Formula 1 theme. To find it take the Ariondaz gondola from the snow front. The start line is at the top of the lift. It costs €15 a run, including your sled.
It's best to keep your ski gear on, including goggles and gloves! Get ready to race as you twist and turn down the 3km course through trees, tunnels, and gullies. You'll rocket all the way back down to the village centre. For added excitement, night sessions run under floodlights every Thursday until 7pm.
You can also tackle the Courchevel 1850 luge run which starts at the top of the Grangettes gondola in the town centre. It then descends down through the trees into Courchevel Village 1550. This track is free to use, you just need to rent a sled from a local ski shop. You can use the gondola to ride back up when you're done.
---
Aquamotion
Aquamotion is the local swimming pool and spa. But it's nothing like your local leisure centre, that's for sure. The building is shaped like a glass wave and you can't miss it as you drive up the mountain road. It's between Village 1550 and Moriond 1650. You can easily take the ski bus to the dedicated bus stop.
Inside the swimming area there's two areas. Aqualudique is for the kids with splash pools, water slides, and all sorts of mayhem. While others are distracted, you can also sneak off to the Aquawellness zone which is for adults only. This is the spa area with hot pools, serenity pools, saunas, and steam rooms.
---
Night Skiing – Verdons by Night
If skiing all day doesn't wear out the kids, then clip on your skis after dark. During the school holidays Verdons by Night opens on a Wednesday evening. This enables you to ski the lower blue slope after dark, with floodlights, of course.
It is included in your 6 day lift pass, so you don't need to stop skiing at 4 or 5pm. You can jump on the Verdons gondola at the 1850 snow font and keep taking more laps.
A few tips for you:
Wrap up warm and it gets cold at night.
Change your goggles. You won't see anything with a black out lens.
Take it easy, the snow can get hard and icy at night.
Have fun skiing at night!
---
Western Park
At the top of the Ariondaz gondola in Courchevel Moriond 1650, is the Western Park. This is a fun beginner ski zone for young kids. It's perfect to experience first turns on skis with covered magic carpets to get to the top of the mellow slope.
The cowboys and Indians theme also includes a large teepee in the middle. You can explore inside the teepee and discover the mythological Native American spirit.
---
Bowling
Looking for an evening activity? Then bowling could be the ideal indoor activity. A good way to keep warm while having a laugh and joke with the family. You'll find a large bowling alley inside the Forum building in 1850. It's the huge building opposite the Croisette lift station.
It's best to book a lane during the school holidays, particularly in the early evening. A bar serving easy going food and drink keeps you fed while you bowl. Or you find another place for dinner in town once you've knocked down the pins.
---
Ice Skating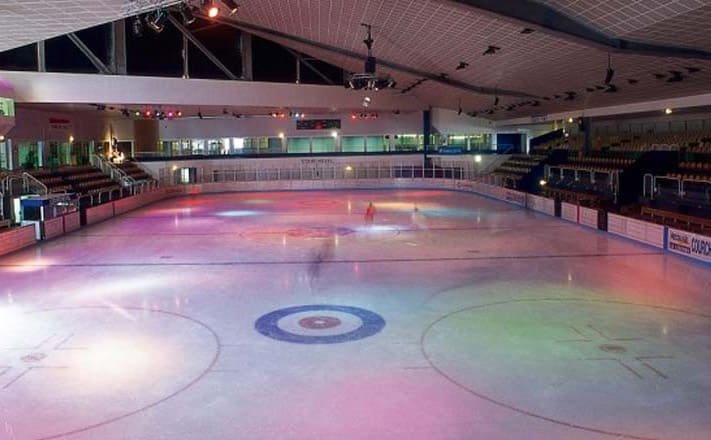 Inside the forum building, you'll also find an ice rink. You might not notice it at first, it's right next to the bowling alley on the bottom floor. It's marked 'patinoire'. That's an ice rink in French…
Grab your gloves and head inside to find a full sized rink. You can hire skates and head out onto the ice. It's generally pretty quiet inside as money people don't even know it exists.
Check the schedule, you might be lucky enough to catch a local ice hockey game one evening too! The clash between Courchevel and Meribel is always tasty.
---
Try Local Food
Don't forget to refuel! After a day on the slopes and all these activities you can tuck into a hearty meal. Trust me you'll need the calories to keep you going all week.
Even children who don't like trying new food can't resist the local French cuisine. It's completely made up of melted cheese, bread, and meat.
Yes, you guessed it.
Fondue.
In the centre of each village, you'll find multiple restaurants with fondue, raclette, and tartiflette. Take a walk and find one that takes your fancy. Or read our guide to Eat Like a Local.
---
Dog Sledding
Missing the family doggo while you're away on holiday? Then the kids will love dog sledding. It's the traditional way to get around on the snow.
In my experience, it's full of thrills and spills for an afternoon. You can spend time meeting the dog pack and bonding with your fluffy team. Then your huskies pull you through the mountain landscape across snow fields and through the forest. Feel the rhythm and ride as you work with a professional musher to complete your journey.
---
Family Park
When researching things to do with children in Courchevel, you'll come across something called the Family Park. This might look like the perfect place to start your adventures, but what exactly is it?
Well, it's a fun terrain park with a lot of different things going on. The main area is filled with jumps, boxes, rails, and kickers. They are designed for freestyle skiing and snowboarding. You'll need intermediate level skiing and above here, stick to the green line to start with. The biggest features and jumps are for advanced riders only, you'll understand once you see them.
As you enter the family park stay to the right for a run skier cross which has twists, turns, and rollers to race down with the kids.
At the bottom end, you'll find a big air bag to learn jumps with a soft landing. Plus snowy ice castles get built for youngsters to play in during the school holidays.
---
Courchevel for Kids Summary
I hope the activities above give you some inspiration about what to do with children in Courchevel.
You can choose from all sorts of activities. If you want to warm up after a day in the cold, then Aquamotion is a place for everyone to enjoy.
For more snowy fun, check out the Moriond Luge Racing, Western park, dog sledding, or Verdons by Night.
In the afternoon and evenings, indoor activities include bowling, ice skating, plus there's a cinema in 1850 too.
If you're looking to have fun on your skis then start with exploring the Family Park, you might need a dose of courage here.
Finally, get the kids to try something new and delicious with a fondue made from melted local mountain cheese. Yum.