Dazzling views, a sunny deck and a delicious meal right on Courchevel's ski slopes.
That's what I picture when I think 'ski holiday'. You've skied the best of the conditions in the morning and now it's time to relax with friends and enjoy the blissful surroundings with a mountain lunch.
Everybody's perfect lunch spot is a little different. You may indulge in gourmet food and wine, tuck into a hearty plat du jour or simply sneak off to a tranquil picnic spot.
Well, Courchevel offers it all! So keep reading to find your ideal Courchevel piste restaurant for lunch.
---
Gourmet Lunch Restaurants
Courchevel is known for its incredible offering of restaurants. You don't even have to wait until the evening to enjoy the finer cuisine. As you cruise the slopes you'll quickly stumble upon a sunny deck or roaring fire for the ideal lunch. Let's take a look at the top places for a slopeside gourmet lunch.
La Cave des Creux
Once home to shepherds perching at 2100 meters, La Cave des Creux now offers a mixture of exquisite mountain food set in an authentic wood chalet. Relax on the sunny deck with views overlooking the wide-open ski area. Locals Boris and Florian Glise plus the whole team welcome skiers to taste quality, gourmet and refined cuisine right on the ski slopes. Authentic decoration mixing mountain and industrial styles compliments a terrace and fire allows you to enjoy a panoramic view of Mont Blanc.
---
Caphorn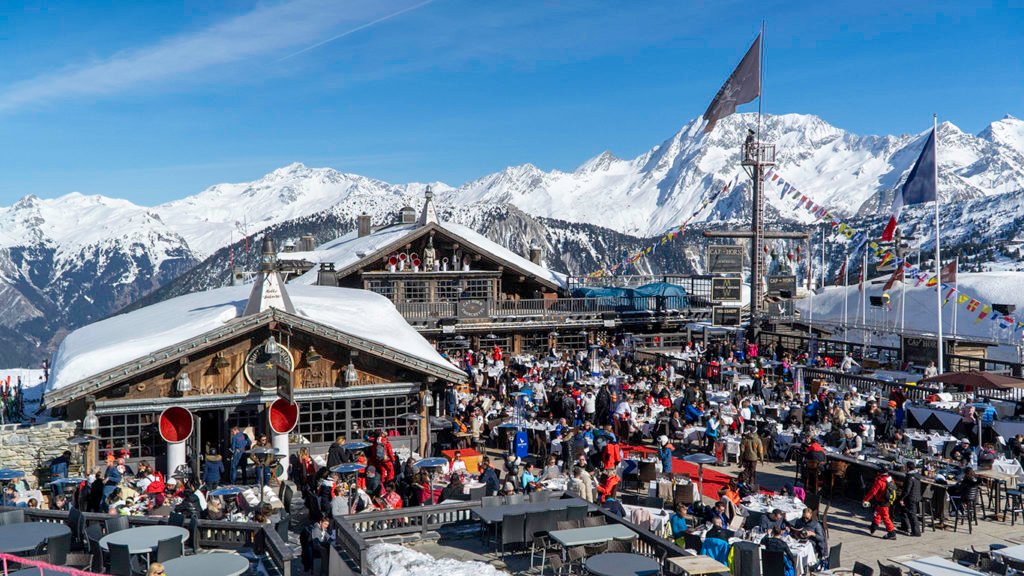 Cap Horn is the oldest mountain restaurant in Courchevel 1850 opening its doors way back in 1954. A sprawling south-facing terrace catches all-day sun while its interior warms you up on a cold day. This is one of the places to be seen in Courchevel and is a must for those who love gastronomy and good wines. Its blend of great marine explorers with mountain farming makes for a unique space to enjoy welcoming relaxing lunch.
---
Chalet de Pierres
Now an institution on the slopes of Courchevel, Le Chalet de Pierre proudly sits alongside the Verdons slopes not far from the Jardin Alpin. You'll step straight off the gentle piste onto the sunny south-facing deck. Be shown to your table where you'll be waited on for the afternoon. What will you have to eat? Perhaps a Tartiflette with truffle or treat yourself to grilled seabass. If things start to get a little chilly, curl up next to the crackling fire with a vin chaud (hot wine) to warm your hands.
---
Bagatelle
A fresh addition in 2020 to the illustrious slopes of Courchevel, a restaurant focussing on French Mediterranean in both atmosphere and cuisine. Sit on the panoramic decking and taste the Mediterranean. You'll be transported to the south of France until you look up from your plate to discover the sparkling white-capped peaks. Finish your meal, take another glass of white wine before the music turns and the party get started for the afternoon.
---
Good Value Skiers Menu
Looking for a delicious meal to fill you up without breaking the bank? Then head to one of these mountain restaurants serving irresistible skier's lunches!
Le Bel Air
Le Bel Air is the hidden gem of lunch spots in Courchevel. Nestling away from the limelight on the slopes of Courchevel Moriond 1650 you'll find a delicious meal here with an always excellent plat du jour (plate of the day). Sunbeams through the panoramic windows all day. It's easy to find and accessible to non-skiers at the top of the Arionondaz gondola which leaves from the heart of the village below.
---
Le Bouc Blanc

A busy spot on the La Tania side of the mountain that fills up quickly when the sun is shining. It is well worth booking on the busy weeks. The energetic terrace is home to big delicious plates of food and even a well-priced skiers menu. You'll love Le Bouc Blanc in the warmer spring months of March and April as you sunbathe to live music.
---
Gaston
Gaston is a handy skier'ss lunch spot in the heart of the Courchevel 1850 town. It sits on the bottom floor of the forum building which lies right on the piste. To find it ski left past the snow front and under the bridge, you'll arrive at Gaston on the left. Tuck into the reasonably priced well-portioned skier's menu. My personal favourite – a rack of ribs to refuel after a morning on the slopes.
---
Pomme de Pin
Looking for something a little different without breaking the bank? Le Pomme de Pin hotel offers a welcoming sunny deck at the bottom of the Stade. Slow down on approach, you don't want to overshoot and end up in the fresh seafood buffet… or maybe you do.
---
Light Bite Pit Stops
Refuel at a snack bar or grab a light bite on the go.
Waikiki
Burgers, cocktails and a beach bar. Waikiki is a quick pit stop burger bar on the side of the Bellecote ski run. Kick your skis off and step on in. Order yourself a beefy cheeseburger and fries to refuel. Maybe stay a little longer and aid the digestion with a freshly made cocktail. Did somebody say Pina Colada?
Bouc Blanc Snack Bar
Le Bouc Blanc also provides a snack bar to grab something on the go. Fill up on a panini, a portion of chips and a cold beer in one of the many deck chairs. Once you're done you can instantly hop on your skis to explore La Tania and Meribel in minutes.
Forum
The forum building in the centre of Courchevel 1850 houses a number of handy amenities including a bakery, cafe and supermarket. You'll find everything you need in here from a quick coffee to pocket filling treats.
Polar Cafe
Hiding in the 1850 Croisette building, Polar Cafe is often a forgotten option for lunch on the slopes. You can ski right up to the front door and there's even a small deck if you prefer to sit outside. Choose from pastries, bloomer sandwiches or fresh salads in this busy cafe.
Le Bel Air Snack Bar
Exploring the Moriond 1650 ski area? Then stop by Le Bel Air snack bar for refreshment. It's a popular slopeside pit stop for a basket of chips and cold beer. Ideal for those adventurous skiers discovering every corner of the ski area without time for a full 3 course lunch.
---
The Best Ski Slope Restaurants in Courchevel
Hungry yet?
There's so much choice when it comes to lunch stops on the slopes. From long lazy lunches to quick pit stops, there's refreshment ready and waiting in every corner of the Courchevel ski area.
Sample fine dining at the legendary La Caves de Creux or Caphorn. The next day relax with a hearty skiers menu at Le Bel Air or Bouc Blanc. For your big non-stop ski day just grab a burger from Waikiki on your way through.
Or keep it simple and take a picnic filled with local treats to stop where you want!