Discover the absolute best nightclubs, bars, and nightlife in Courchevel
You may think of Courchevel as an immaculate ski resort but don't be fooled, it's not just the skiing that reaches celebrity status – the party goes on.
In fact, you're just as likely to pass an A-lister finishing a night out as the French ski team hits the slopes for early morning training.
Courchevel is the ski resort that never sleeps, sparkling as much in the night as it does in the winter sunshine.
DJ-driven clubs, live music, late-night restaurants, cocktail bars, exotic shows, and uh-mey-zing fireworks, all refined into a luxurious utopia of mountain nightlife.
There's something to be said for how rarefied, both in sophistication and geography, the Courchevel nightlife experience has become.
Whether you're looking to star with bottle service and sparklers or dance the night away in the heart of the mountain, you'll surely find your place once the sun goes down.
Let's find the best Courchevel nightlife!
---
La Mangeoire Lounge & Nightclub
Enter a world of unrivalled soul and atmosphere coated in a vintage mountain setting. La Mangeoire Piano-Bar leads the way as the heart of Courchevel nightlife. Step through the doors in the early evening and you won't want to leave until the very end.
A restaurant serving traditional French cuisine cooked over a wood fire welcomes you in complete comfort. Delight as you taste the local food with tenderly grilled meat and rich fondue specialities.
A wine cellar digs into what feels like the heart of the mountain, opening its doors to reveal to your requests.
Take a drink in the lounge while relaxing to beautiful piano melodies. Your favourite cocktail? Or an after-dinner digestif perhaps?
Before you realize, La Mangeoire transforms itself once again. Musicians raise the tempo to a crescendo over the night for a euphoric atmosphere and an unforgettable evening.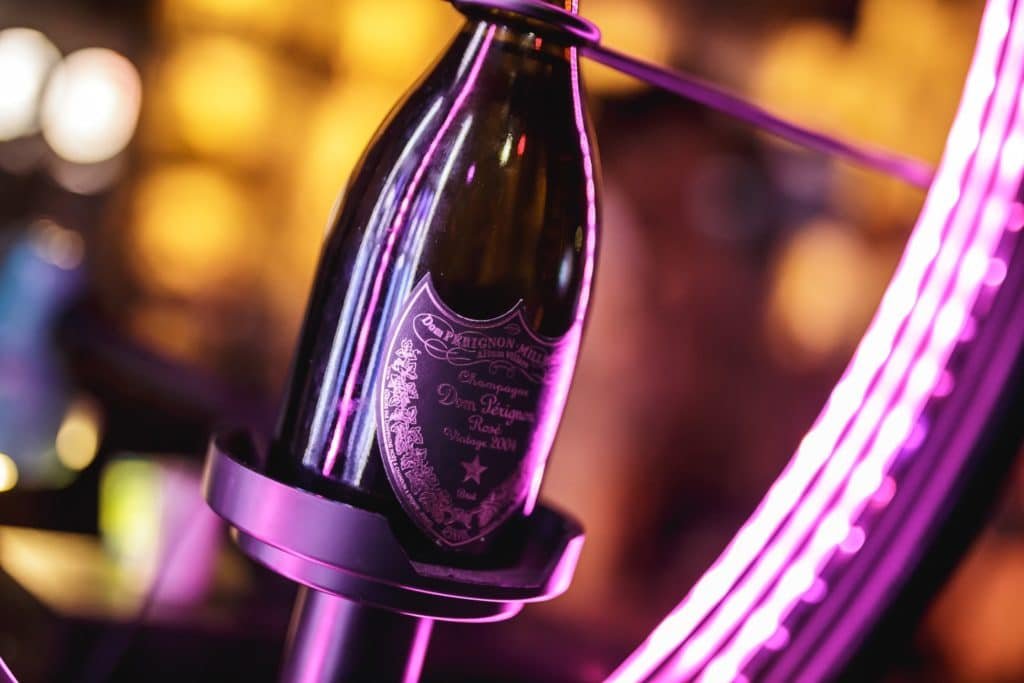 ---
Les Caves de Courchevel Nightclub
Les Caves de Courchevel is now the place to be seen and one of the most raved about nightclubs in the Alps.
She doesn't look much from the street but as you enter the mysterious doors and pass the rustic wood interior, Les Caves arrives glowing out of the darkness.
There's nothing else to do but dance the night away until the very early hours all the while brushing shoulders with celebrities.
Champagne and grey goose flow as the live DJ sets the mood to high for the evening.
Pick your themed night with celebrations every night of the week including dedicated to hip-hop parties and urban anthems or girls nights all backed by world-famous DJs.
Don't worry about being late to the party either, you won't find much going on before midnight with the doors staying open until at least 5am.
---
La Grange Nightclub
Groove into a modern urban club feel with an alpine trim at La Grange. Take your place at the VIP table a loosen up in opulence with on-demand bottle and table service. Once you're feeling the vibes, lose yourself on the dance floor with superstars on the decks and in the party.
State of the art sound and lighting systems combine with live music, legendary DJs, exquisite cocktails in a luxurious setting to elevate La Grange into the VIP category.
A magnet of the trendiest, Tournier's La Grange rivals the multi-tiered clubs more often found in Saint Tropez.
Walk the streets near La Grange at night and you'll pass lines on chauffeurs and private cars dropping their guests on the doorstep off this legendary Courchevel Nightclub.
---
Where else to party in Courchevel?
One of the great things about nightlife in Courchevel is its diversity. You can just as easily hide away in a local watering hole as rendezvous with celebrities.
VIP nightclubs not your thing? Then keep reading to find somewhere more your style from secret wine cabins to seasonaire hangouts.
Quiet Wine Bars
Discover the hidden gems of French wine at a number of small, cosy and friendly wine bars.
---
Le P'tit Drink, 1850
Since 2006 Ptit Drink offers generous servings of french wine and tapas. Nestling in the heart of 1850, it's the perfect place to sneak away for a quiet refined evening.
"Manu runs this cosy bar with quality food Fabulous choice of fine wines. Be nice to him he'll give you ski tips too…" – John J.
---
La Cabane, Moriond 1650
La Cabane goes unnoticed until you stumble across it in the heart of the 1650 village. This micro-bar appears little more than a large shed from a distance but step inside to a friendly selection of wine and oysters.
"It even has chandeliers and is the most cosiest wine bar you'll ever go to! Serving cocktails, fizz and some good french wine" – Lynne D.
---
Les Perles du Palais, Village 1550
Walk along the main street of Village 1550 and you'll find this small wine bar. Its walls are packed with bottles to suit every budget and taste. Friendly service makes you and your wine walk away feeling most appreciated.
"A magnificent place, a few small tables where we can taste good wines with great advice from the sommelier" – Stephanie M.
---
Seasonaire Hangouts
Warning: You're likely to find your chalet host and ski instructor here.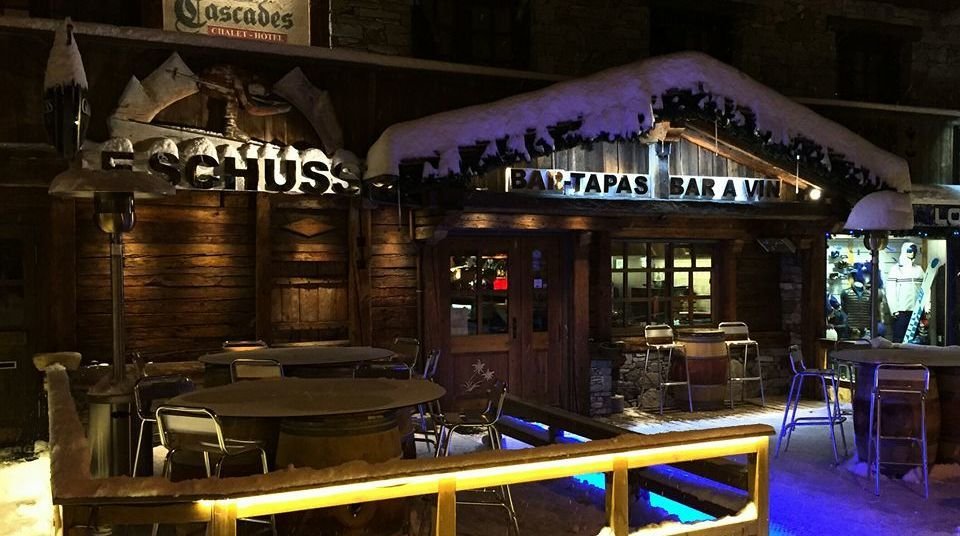 Want to know where the real party is at? Then check out these energetic seasonaire bars and clubs where the drinks are cheap and the games begin.
La Luge, Courchevel 1850
La Luge is your classic hang-out ski bar. Sit, drink a few beers and get stoked for tomorrow's skiing. Stay a bit longer, the DJ decks appear and the bar flows into a chilled-out party spot in Courchevel 1850.
---
Funky Fox, Courchevel 1650
Funky Fox has grown its own funky following over the winters with its mix of tasty pub food, live sports and late-night dance club. It's the place to be after midnight in Courchevel 1650 as live bands and DJs kick your night out up a notch.
---
Schuss Cafe, Courchevel 1650
If you want an alpine bar that looks and feels like the real deal then head down to Le Schuss. Wooden beams support this local bar from front to back. Knockback a cold beer and sharing platter before laughing and joking with the hoard of ski instructors late into the night.
---
Bubble Bar, Courchevel 1650
For good value, tunes new and old, plus a helping of toffee vodka then look no further than Le Bubble Bar in Courchevel 1650. For a night out you'll want to stop by after 10pm when the place fills with seasonaires ready to boogie.
---
La Boulotte, Courchevel 1650
Head into Le Boulotte in Courchevel 1650 for a laugh, joke, live music and wellpriced refreshment. During the day, you'll get a delicious home-cooked lunch including filling burgers, wraps and a bowl of fresh soup. Before you know it, 4pm comes around and the bar fills with locals ready for a few beers and some live music. It's a small alpine bar packed with character and good times.
---
L'Elephant, Le Praz
L'Elephant is the only place to party late into the night in Le Praz. The spacious bar serves a wide range of international and local drinks to loosen the mood as the live music start to ring out.
---
Pub Le Ski Lodge, La Tania
Some call it the heart and soul of La Tania, others just know it as the place to party. Ski Lodge pours a tasty beer for everyone who steps inside late into the night with live bands and buzzing atmosphere.
---
Courchevel Nightlife Summary
Once the ski lifts stop turning and the last flicker of the sun disappears over the jagged horizon, Courchevel transforms into another world. Find your spot for the evening whatever your style.
Dance the night away in an epic nightclub, laugh and joke over a bottle of local wine, or find where your ski instructor spends the evening. If it's a special occasion, then look up to the sky as fireworks boom and crackle over the Courchevel snow-front.