Take a sneak peak inside the Michelin Star restaurants proudly serving in Courchevel
Courchevel fine dining restaurants hold an incredible 14 stars between them. For such a small town Courchevel offers a quite miraculous spread of world-class gastronomic experiences.
In each edition of the Michelin guide, you'll find a diverse selection of Michelin star Courchevel restaurants serving traditional local food with a twist, inventive international recipes and even the first-ever Michelin star gourmet dessert restaurant.
So, what are these Michelin star restaurants I hear you ask? Below is the complete list of Courchevel Michelin star restaurants including their rating of 1 star, 2 star or even a mythical 3 Michelin stars.
---
Le 1947, Cheval Blanc – 3 Michelin Star
Le 1947 holds the highest award for superlative cooking which elevates to an art form.
The mythical Cheval Blanc houses 1947 and that's should be enough to place the 3-star Michelin restaurant on your bucket list.
Amazing contemporary cuisine.
Named after the most prestigious wine vintage of Chateau Cheval Blanc you'll experience something sleek, contemporary and truly breathtaking.
With a uniquely innovative approach to cooking, the menu combines exquisite modern cooking with locally sourced produce.
The small intimate restaurant is one of the purest experiences of exclusivity in Courchevel.
See Menu.
---
Chabichou – 2 Michelin Stars
Head chef, Stephane Buron shows his personality and talent in all the exquisitely crafted dishes.
Refined, Inspired and original.
Le Chabichou is an institution of the valleys bringing modern techniques to its food. Distinguished ingredients combine with enticing flavours to recreate all-time classics.
It's your classic alpine restaurant rethought with personality, flair and focus on quality ingredients.
Give yourself plenty of time to relax, enjoy the experience and, most of all, taste everything.
The cosy and warm restaurant has you feeling like 'one of the family' as soon as you step in the door.
See Menu.
---
Kintessence, K2 Palace – 2 Michelin Stars
Kintessence is quite simply a fantastic gastronomic experience.
Inspiring and inventive yet genuine food.
Relaxed and chic, you'll delight at the flavourful cuisine made created from seasonal ingredients in a cosy intimate setting.
Extraordinary chef, Jean-Rémi Caillon takes inspiration from his mountain home plus philosophies of French tradition, umami, precision, environment.
You'll experience the world around you in a menu created from local delights including lamb, fish and cheese.
"The Quality of the ingredients, harmony or recipe, juxtaposition of the flavours, aesthetic of dishes. The food takes no prisoners, subtly allying." – Michelin Guide.
See Menu.
---
Sakara, K2 Palace – 2 Michelin Stars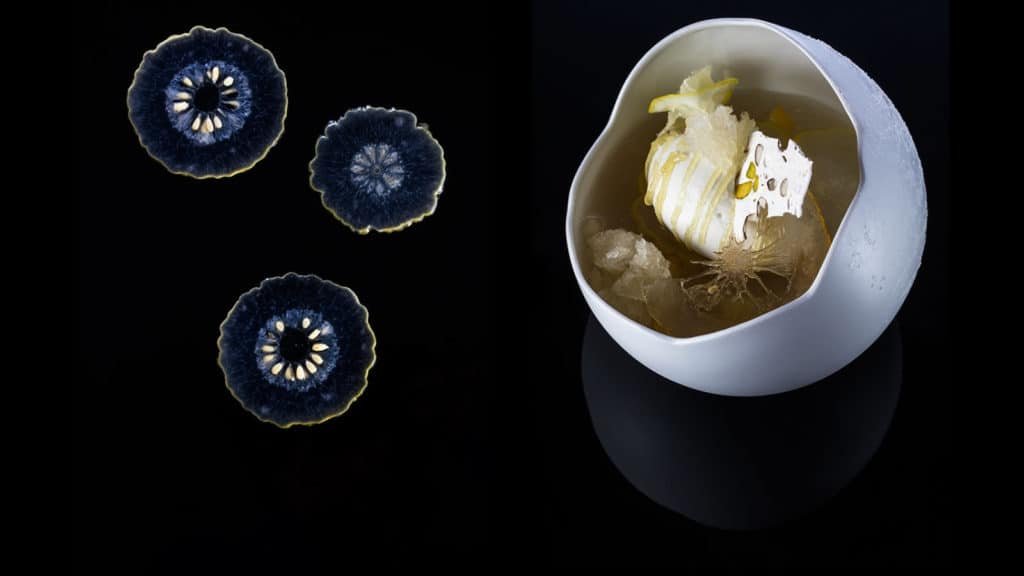 If you've got a sweet tooth, then Sakara is unmissable. Fact.
It's the first Michelin Star gourmet dessert restaurant in the world.
Distinguished pastry chef, Sebastien Vauxon creates extraordinary dishes to match the dizzying heights they deserve.
Get ready for a sweet journey like nothing you've tasted before.
The stunning panoramic views from the K2 only amplify the unique incredible experience.
"A brilliant combination of textures and flavours. Masterful"
See Menu.
---
Le Montgomerie, Le K2 – 2 Michelin Stars
Le Montgomeire is a restaurant with its eyes on the summit.
With food inspired from the Rhone-Alps region, it is as breathtaking as its scenic views.
The finest of ingredients match the impeccable skill of the chef to give you a treat of flavours.
Outstanding service welcomes you into an alpine setting including a roaring fireplace keeping you cosy and warm.
Magnificent views, authentic alpine setting and a Savoie treat for the senses creates yet another show of excellence in Courchevel.
See Menu.
---
Baumanière, Le Strato Hotel – 1 Michelin Star
Jean-André Charial brings his legendary restaurant owner status to Hotel Le Strato in Courchevel 1850.
He's earned himself another star for his unforgettable gourmet dining experience.
Taste a mountain twist on the Mediterranean inspired dishes in an authentic manner. Your dishes won't overwhelm as you enjoy Jean-André's style of simply looking dishes that elaborate into so much more.
You'll find turbot, truffle, sea urchins, giant crab on the menu before dipping into new takes on classic desserts.
"Slaloms with precision and elegance between winter influences and sunny flavours of Provence."
See Menu.
---
Azimut – 1 Michelin Star
Azimut hides away from the limelight, unpretentiously going about its delicious menu in Le Praz.
It's a friendly, fairly priced restaurant, welcoming everyone and anyone through its doors.
You'll be beaming from ear to ear at the top quality fresh ingredients with distinct flavours. Plus you'll be complimenting your dishes with an outstanding wine list inspired from the Azimut's summer location in Jura.
This arguably one of the very best French restaurants in the 3 Valleys. Relaxing friendly service, sophisticated yet tasty, deliciously charming.
A hidden treasure.
See Menu.
---
Le Farcon – 1 Michelin Star
Le Farcon is a welcome surprise for those in La Tania, a smaller family resort in the Courchevel valley.
This down to earth restaurant purely looks to makes you happy.
The value for money menu builds on local ingredients and produce for a delicious dinner or even slopeside lunch.
It's fresh and tasty with the chef not relying on the old luxury staples of beef, venison, truffle and foie-gras.
"The tasting menu is exceptional, taking you on a gastronomic tour of ancient Savoie, chef Julien Machet builds on local ingredients and produce for a delicious dinner or even slope-side lunch."Menu
---
14 Michelin Stars of Courchevel
14 Michelin Stars of Courchevel shared between just 8 restaurants.
Whether you're lucky enough to dine in complete exclusivity at 1947, sit at distinguished tables around the K2, or sneak away to hidden locations like Azimut or Le Farcon, you won't be let down.
Courchevel is famous for its fine dining excellence and you can enjoy it guilt-free after an energetic day out on the equally refined ski slopes.