Looking for the best apres ski bars in Courchevel? From La Folie Douce to seasonaire hang outs, Courchevel has it all
So you want to know the best apres ski spots in Courchevel?
Well, the best way to find the party in Courchevel is to go where the ski instructors party. The guys and gals that party as hard as they ski.
Wherever you finish your ski day on the mountain you're never far away from live music, dancing on tables, a magnum of rosé, DJ sets, or simply a quiet spot to relax.
Keep reading to find out where to apres ski in Courchevel and The Three Valleys.
---
La Folie Douce
You'll hear it before you see it. La Folie Douce is the ultimate apres ski spot, an unmissable experience for anyone who visits Courchevel.
It's famous for putting on some of the world's most amazing parties high up on the slopes.
Perching on the mountainside between Courchevel and Meribel, there's nothing quite like it with a unique mix of experiences.
Folie Douce combines positive energies and brings generations closer to a simple vision: "have fun and enjoy. Everywhere and every second, there is happiness"
Live DJs, open-air clubbing, daily shows all surrounded by the awe-inspiring mountain landscape.
---
VIP Slopeside Apres Ski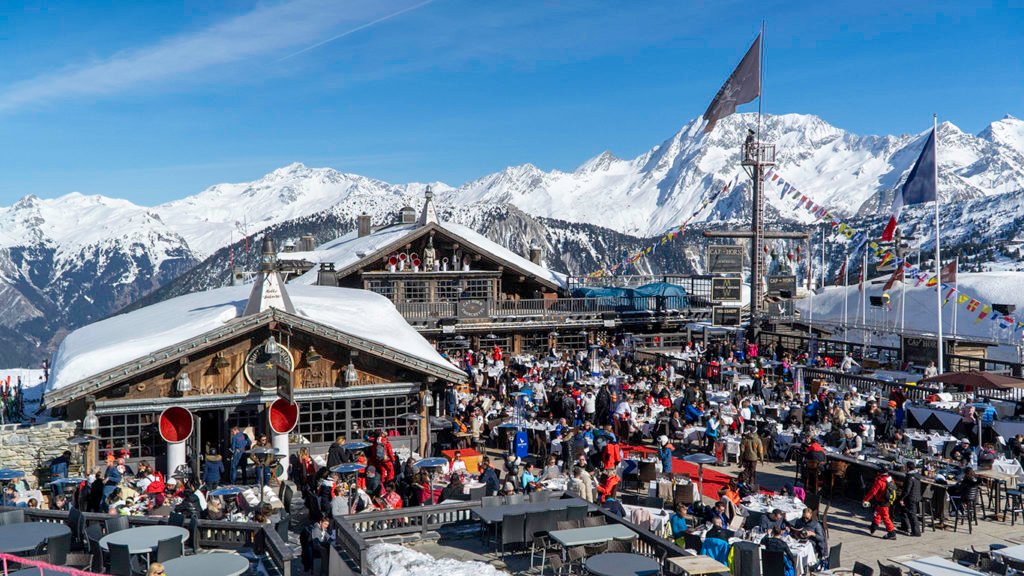 If you're looking for some early afternoon VIP spots right on the slopes then you're spoilt for choice.
You can stop for a long lunch at slopeside restaurants like Caphorn, Mangeoire Ski Club, Chalet de Pierres or Bagatelle and after a few glasses of wine, you'll see the sunny decks turn into lively parties as the afternoon kicks in.
Enjoy elevated dining experiences and afternoon celebrations from all these locations surrounded by 360 views of sparkling snow-capped mountains.
Just remember, you might have to ski down before the sunsets once you're done!
---
The Seasonaire Hangouts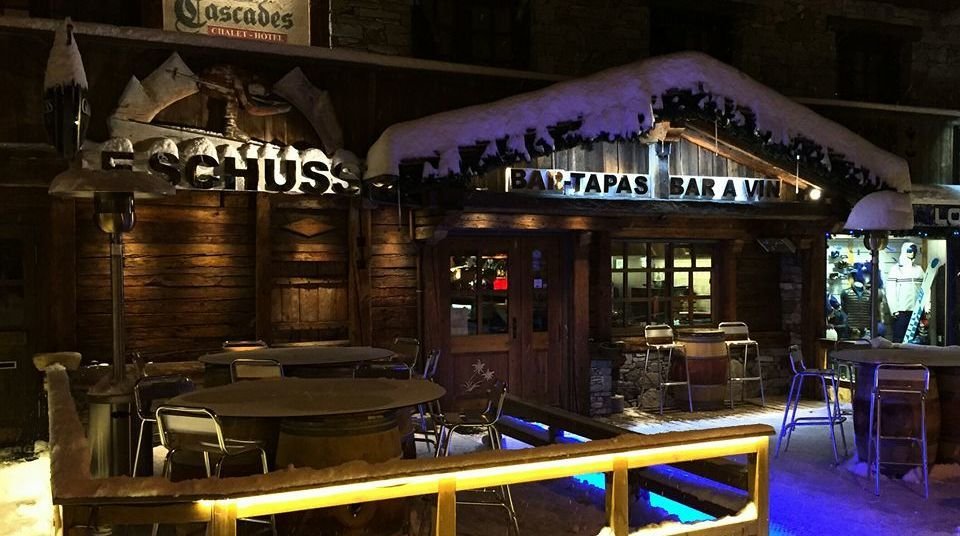 Want to find the places where your chalet host and ski instructor really sneak off to?
Then your best bet is to head towards La Tania, beware, you'll be shedding the Courchevel glamour for a true seasonaire experience.
Perhaps the best person to follow is ski instructor come apres musician Freddy Wilkens. By day he'll be out teaching on the slopes. Once the lifts stop spinning it's time for the Freddy Wilkens Show at La Taiga on Tuesdays from 5pm.
Pub Le Ski Lodge, in La Tania, is notorious for putting on a rowdy session, La Boulotte, 1650, is a cosy local bar with regular live music, plus Le Schuss, 1650, and La Luge, 1850, fill with happy go lucky ski instructors well after the sun goes down.
---
Fire & Ice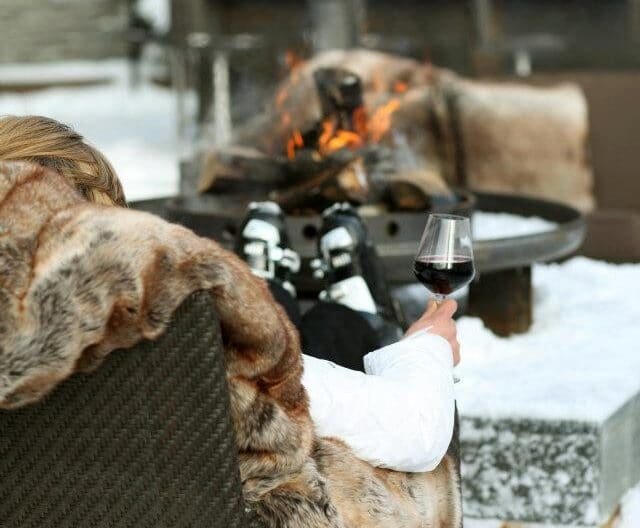 If chilling out, relaxing and enjoying the mountain life is more your thing then Fire & Ice bar at Le Portetta Hotel is the perfect apres ski spot.
Set into the snow front of Courchevel Moriond 1650 you'll unclip your skis and fall into the luxurious outdoor sofas.
Friendly impeccable service keeps your drinks topped up. Sip a fresh cocktail, a refreshing beer or a warming vin chaud.
As the sun twinkles behind the mountain peak you'll stay warm under thick blankets and a heated outdoor bar.
Plus from 4.30 pm it's happy hour which even includes free (DELICIOUS) stone-baked pizza.
---
Waikiki Beach Bar
Why not grab slopeside winter sun at the unique Waikiki Beach Bar. It's simple, relaxed and easy-going, just like a beach bar should be.
The French Alps is renowned for its glorious blue sky, wall to wall sunshine ski days. You're almost guaranteed to get great fresh snow conditions combined with fair weather skiing during a week in Courchevel. Most visitors get glorious skiing and a suntan after a week in the snow.
Fill up on a burger, grab a cocktail and lap up the sun all to a few classic tunes through the afternoon.
---
La Petite Bergerie
An unlikely combo of a local french grill restaurant and Scottish tradition opens its doors below the streets of Le Praz.
This apres session is a hidden gem only known to those who hear the highland whispers around the Courchevel.
Walk into a laugh a minute performance from Bill and Arthur as the local musicians put on a folk sing-along come comedy show.
It's a different sort of apres, you'll feel like you've been transported to the Scottish Highlands, not the French Alps. Wednesday, 5pm, see you there!
---
Le Tremplin
Le Tremplin proudly sits on the main snow front of Courchevel 1850 making it the perfect place to slide right off the slopes into apres ski.
The large deck catches the last of the Courchevel sun before the music turns up and the drinks start flowing.
There's no need to even leave your seat with quick table surface helping you relax to regular live music from 4pm.
Once you're done easily jump on the Jardin Alpin lift or hop in a taxi back to your luxury accommodation.
---
Copina Cocktails & Tapas
For a luxurious experience out of the limelight, Copina in Courchevel Moriond 1650 is waiting.
The popular tapas and cocktail bar is open from early afternoon with delicious cocktails made from local ingredients, moreish small plates.
Check out their Facebook page to find out when they've got live music planned.
---
Chez Gaston
Chez Gaston is one of the easiest to reach bars both on skis and on foot.
It nestles in the heart of Courchevel 1850 on the lower floor of the Forum building.
You can't miss is big red Gaston sign out front. You reach it on skis by passing 20 metres under the bridge from the Croisette/snow front.
Formerly the well-known hotspot, Ku De Ta, it now serves tasty skiers lunches and afternoon meals.
Styled like a ski lodge inside, you can enjoy good value food and warming drinks along with some live music to end the day.
Once the sun goes down, it transforms into a late-night bar/nightclub to keep you up into the early hours.
---
Bar Le Caterail
If you're in Courchevel 1550 looking for a place to relax once you've finished skiing then don't fear.
The sleepy village does have some hidden gems hidden away. For lively spot, head to Le Caterail near the start of the main street.
The wood-clad bar oozes alpine vibes and is the perfect placed to enjoy a local drink.
Into the evening you'll find live music and plenty of live sport to keep you entertained.
---
Apres Ski in Courchevel
You can have apres anyway you want in Courchevel.
Unmissable groovy vibes of Folie Douce, VIP slopeside experiences, rowdy seasonaire hangouts or a quiet drink in the sun.
What is 'Apres Ski'?
Apres ski is a French term coined by the ski industry to talk about what you do after you have finished skiing for the day. It literally translates as 'After ski' and usually involves energetic parties once the chair lifts have stopped for the day.
No good ski trip is complete without a good bit of apres. The party gets started from mid-afternoon in mountain bars across ski resorts including Courchevel. The easiest way to find the best bars is simply to listen for the live music, stamping of ski boots, and follow the locals.
You'll soon see that these parties come in all shapes and sizes from 1 man and a guitar in a small wood-clad local bar to international DJs playing to hundreds of people on sunny decks.
---
What to wear for apres ski in Courchevel?
When it comes to apres ski, anything goes.
And that includes fashion.
While you'll be more than happy in your regular ski gear, some people really do dress for the occasion.
Step foot in a place like the Folie Douce and you'll understand.
Bold neon coloured suncream is branded across youthful faces.
Retro ski suits are reintroduced to the party.
80's headbands take pride of place in Instagram selfies.
Fur clad hoods, sequined jackets, and, for the brave, even some naked skin.
Just take a look at some of this apres ski…
If you're picking out an apres-ski outfit then don't forget to include a little practicality depending on the weather. If you're partying outside then things can get cold very quickly so make sure you've got layers to keep warm.
A warm jacket, hat, and even some gloves as holding a cold drink gets a little chilly.
On more than one occasion I've seen a cold beer start to freeze if it doesn't get finished quickly enough.