Courchevel 1850 is famous for its unrivalled blend of incredible skiing, luxury accommodation, and exclusive amenities.
As a keen skier, you'll love the perfectly manicured ski slopes to suit all abilities. Take your first turns on the lower slopes or use the high speed lift network to explore high mountains.
For maximum comfort pick your ideal ski chalet in the quiet treeline or enjoy a 5 star hotel in the heart of the town.
Courchevel 1850 is the highest and most well known resort in the Courchevel valley. On arrival you'll quickly notice the high-end cars parked on the street, boutique shopping, fine-dining restaurants, and celebrities.
It's almost become a cliche to say that it has become 'a playground for the rich and famous'.
Along with this, it's got everything you'd expect in the perfect winter destination including spas, ice skating, apres ski, and much more.
---
Skiing in Courchevel 1850
You could be mistaken for thinking that skiing took a backseat in Courchevel 1850, but you'd be wrong.
The foundation of this ski resort is its amazing quality of skiing. The north-facing slopes guarantee snow from early December until late April. It's a snow sure area which is backed by an extensive snow making system.
The piste design means it's suitable for all abilities. Beginners love the wide open and easy going green slopes. You can even start your first turns on the Bellecote piste which offers a free ski lift.
As you progress you can start to use the modern lift system. From the snow front in 1850, you can choose between 3 different Gondolas or clip on your skis to ride down to 1550 or Le Praz in a few minutes.
More experienced skiers and snowboarders can enjoy the well groomed blue and red runs right from the summit of Saulire. Famous runs like Creux or Combe de la Saulire are awesome, they seem to go on forever taking you from the top to the bottom from the resort.
If you want a challenge then the Grand Couloir awaits. An off-piste black run that sits on the bucket list of skiers from all over the world!
The Courchevel ski area revolves around 1850 so it's the perfect place to start each day. And you can even ski the whole 3 Valleys from here including Meribel and Val Thorens.
Ski Rental
Most people choose to rent skis from the top quality shops in the village. You'll see all the major suppliers in the village centre, along with independent shops with first class service.
You can easily book online, plus even have your ski rental delivered and fitted in your accommodation.
Ski Lessons
If it's your first time skiing then it is essential to have ski lessons. Plus if you already have a good level, you can take your technique to the next level. The better you become the more fun there is to be had on the mountain.
There's a wide range of ski schools and private instructors to choose from. Group lessons are available from the bigger ski schools. While a private ski instructor helps to accelerate your learning. Plus they'll meet you at your chalet or hotel and act as your guide to the resort for the day.
---
Chalets and Hotels in Courchevel 1850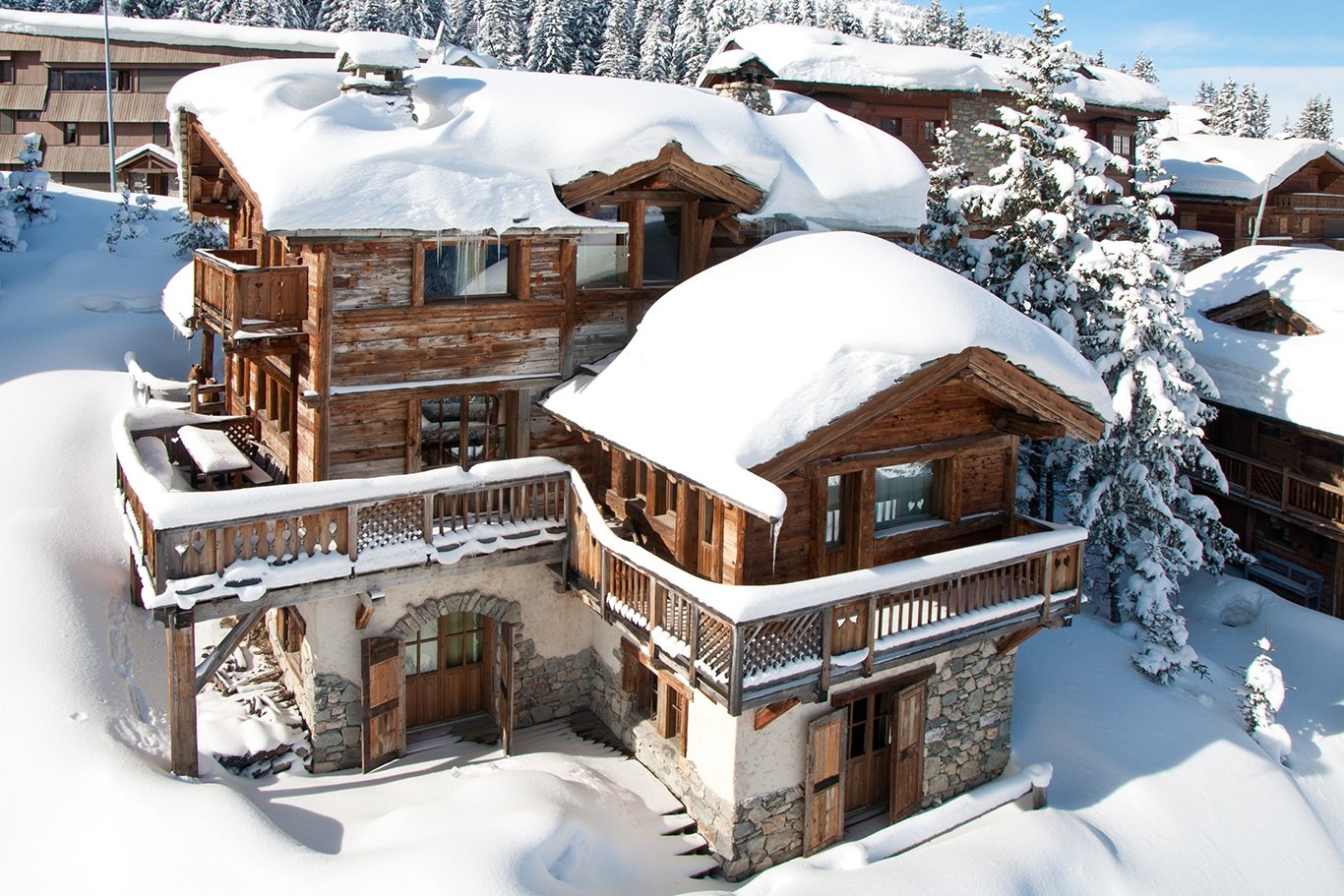 You really are spoiled for choice when it comes to accommodation in Courchevel 1850.
Hotels and chalets sprawl across the mountainside. If you want to be within a short walk of the village centre for local shops, restaurants, and amenities then a hotel in the heart of the resort might be the best choice.
More options lie in 3 different areas of the resort. Alongside the Bellecote piste you'll find luxury ski chalets available for private booking. This popular location gives you instant access to the ski area to get out quickly in the morning. Easily head into the village centre via a 15 minute walk or quick drive. Most of these chalets are full service with a host and chef as there's not too many restaurants or bars nearby.
A little further up is the Jardin Alpin area which is filled with exclusive hotels. It's not an exaggeration to say that these are some of the world's best 5 star hotels with everything you can imagine, including a multiple Michelin star restaurant. You can get on the slopes quickly in the morning and ski into the centre of the village. You can also use the Jardin Alpin gondola in the evening to get to and from your accommodation. Adding to this, hotels happily drive you where you need to go.
On the other side of the resort is the Chenus area, you'll mainly find ski chalets up the road here. Plus there's a few hotels to choose from too. In a short 2 minute walk you can clip your skis on and ride down into 1850 or Plantrey chairlift to start your day. The village centre is just a 5 to 10 minute walk away if you want to explore on foot.
For the best prices on Courchevel 1850 hotels, we always recommend Booking.com
---
How to Get to Courchevel 1850
The most popular way to get to 1850 is via the nearest international airports like Geneva or Chambery. Then you can book a transfer to drive from the airport to the resort. Geneva runs the most regular flights and is about 2.30 hours drive to the resort. Chambery is the nearest international airport just 1 hour from the mountains. Although it has less regular arrivals.
Ready to treat yourself? Then choose a helicopter transfer or private jet to arrive at the Courchevel Altiport! Your flight lands right next to the ski slopes on Europe's highest runway. Then your chalet or hotel is just 2 minutes away.
It is possible to arrive by train at Moutiers train station at the bottom of the valley then take the 30 minute drive by transfer or taxi. You can't get lost driving to 1850. It's the highest village in the valley. Just follow the signposts and the winding mountain road until you're welcomed.
---
Restaurants in Courchevel 1850
Courchevel has a stunning reputation for fine dining. It's the most densely packed area of Michelin star restaurants in the world! At any given time, there's well over 10 stars awarded to the marvelous venues. If you're booking a hotel then expect a next level restaurant for your evening meal. Ready to leave your accommodation or it's the chef's day off? Then head into town for your choice of venues to enjoy the evening.
There's still something for all tastes and budgets. International cuisine gives you the choice of virtually anything you can think of from pizza to sushi. Of course, you'll find local Savoie delights like fondue and raclette around every corner.
For lunch on the slopes, it doesn't disappoint either with this incredible food and service extending to the sunny pisteside decks. If you don't want to stop for too long then keep your eyes peeled for sneaky snack bars along your route.
For the widest selection Courchevel 1850 accommodation with stunning restaurants, we always recommend Booking.com
---
Bars, Apres Ski and Nightlife in 1850
As the sun starts to go down in the afternoon, Courchevel 1850 transforms into a new destination. It lights up like a Christmas fairy tale all winter.
There's slopeside apres ski to enjoy at most restaurants and bars which turn up the music and let the drinks flow. For a real show, make your way to La Folie Douce for the afternoon. Trust me, you won't regret it.
Start your evening at a quiet wine bar to taste French grapes or find a cocktail to watch the sky turn orange at sunset.
After dinner, the party ramps up another notch with exclusive nightclubs hosting DJs and acts from across the globe. Don't be surprised to see the grey goose and the champagne being delivered to tables around you.
---
Shopping in Courchevel 1850
As if all of the above isn't enough, the resort is a hotspot for international boutique shopping. All the exclusive brands have a base in the village, usually along Avenue Montagne. You'll find Prada, Channel, Hublot, Dior, and Louis Vuitton, all with unique winter collections. In addition, you can disappear into Espace Diamant with numerous jewelers.
Along the main streets there are plenty of ski shops where you can rent equipment, choose a new jacket, or grab accessories you've forgotten to pack. Skis, goggles, jackets, hats, ski boots, you can get it all.
Head into one of the local offerings to pick up mountain treats and souvenirs including genepi (liquor from local mountain flowers), bespoke chocolate creations, and unique artwork.
For food shopping you can head to Carrefour, Spa or Sherpa for groceries and snacks. You need these stores if you're in a self-catering apartment.
---
Things to Do In Courchevel 1850 for Non-Skiers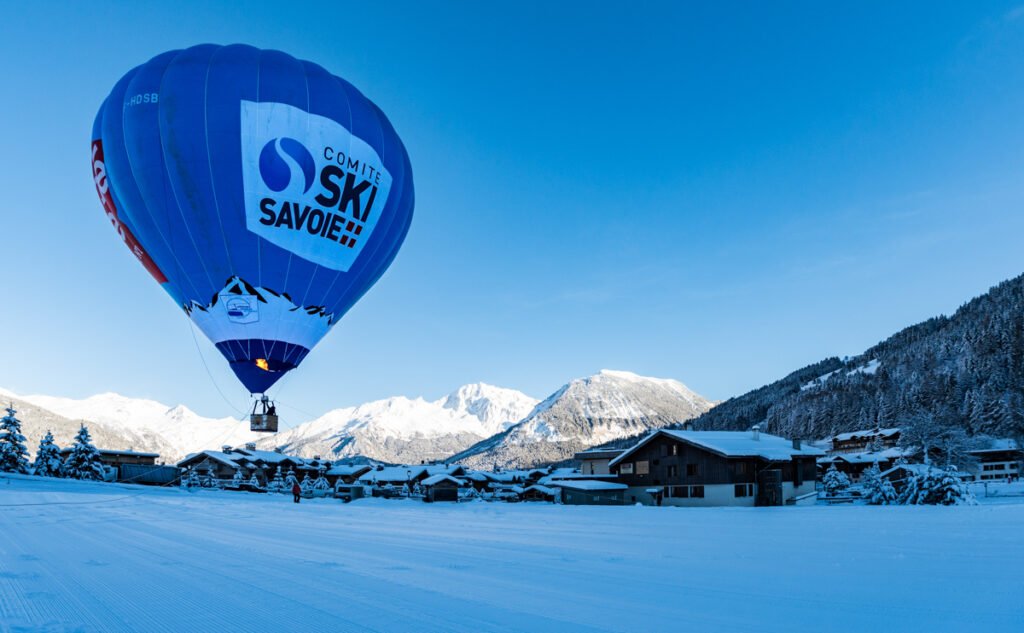 You'll struggle to pack everything you want to experience in a single week. It's why people come back every winter!
When not skiing then you can relax in a number of the hotel spas. Perfect to soothe the muscles after a long day on the slopes or warm up during a snowstorm. You can bubble away in a hot tub, float in a serenity pool, kick back in the sauna, or pick a massage treatment to get you ready for tomorrow.
For families, ice skating and bowling could be the best way to pass the time. You'll find both of these in the Forum building in the heart of the village. If you're lucky you can catch an ice hockey game one evening.
Cafes and wine bars provide a relaxing way to pass the afternoon. See if you can find the perfect cafe gourmand filled with bite size sweet treats. Or sneak away for a quiet glass of local red.
For the more adventurous there's dog sledding, skidoo tours, ski touring, and heli-skiing. While a slow pace of mountain life is found on snow shoeing and hot air balloon tours.
---
Courchevel 1850: The Final Word on Luxury
I hope you've enjoyed this guide to Courchevel 1850 ski resort.
As you have discovered, there's everything you can imagine and more. No one would argue that fact that it offers some of the worlds best ski slopes. The north facing bowl keeps the snow cold, the pistes are perfectly manicured, and there's rarely a queue on the lifts.
When not skiing, you can kick back in your luxury accommodation while a private chef prepares dinner. If you've got the energy, turn up the music and grab a drink for apres ski and late night parties. Then there's the shopping and relaxing spas to enjoy all afternoon while others head off for more adventures in the snow.