Everybody has a different idea of what makes an awesome ski holiday.
If you're like me you want the best snow all to yourself. Or you might want to enjoy a relaxing festive period with family and friends.
To get the most out of your trip, you should consider the best time to ski in Courchevel.
The first thing to say is there is no bad time! Whenever you decide to visit, you'll have a fabulous time.
Each month of the winter offers a slightly different experience as the snow, weather, events, and busyness change.
Below you'll find an in-depth look at what goes on during each month. Plus here's a handy summary table:
Month
Summary
Good for
December
– Ski area opens 2nd week of month
– Christmas and New Year events
– Snow quality better late in month
– Busy during school holidays
– Family and friends looking for a white Christmas
– New Years party people
January
– Quieter after school holidays
– Cold temperatures
– Great snow quality and depth
– Guaranteed snow
– Regular snowfall
– Keen skiers
– Groups of friends
– Corporate trips
February
– Peak weeks during school holidays
– Guaranteed snow
– Cold temperatures
– Great snow quality and depth
– Regular snowfall
– Families with children
March
– Quiet slopes
– Temperature can vary
– Regular snowfall
– Warm sunshine
– Low prices
– Keen skiers who want good snow and warm sunshine
– Groups of friends
– Corporate trips
April
– Easter school holidays
– Spring conditions
– Warm sunshine
– Irregular snowfall
– Slushy snow in afternoon
– Resort closes in 2nd half of month
– Families with children
– Fairweather skiers
– Squeezing in a last ski before summer
---
Skiing Courchevel in December
The ski season starts in early December. The first set of lifts start running on the second weekend of the month.
The first week of the season will have a smaller number of lifts running across the ski area. Most of Courchevel 1850 starts to operate but lifts in 1650 open up 1 week later. The ski bus will also be running a skeleton service during the opening week.
By mid-December and the school holidays start the ski resort is fully open. In fact, you will be able to ski the whole Three Valleys! Generally, there's enough snow to open the majority of the runs thanks to natural snow build-up and man made snow guns.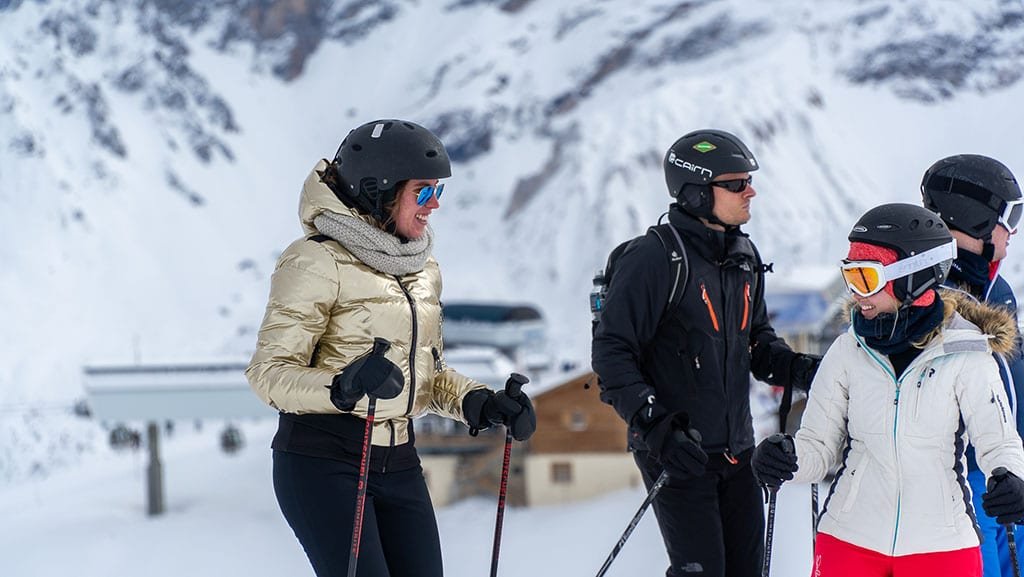 Over Christmas and New Year the ski resort is buzzing with festive cheer. Events run throughout the villages with appearances from Santa and epic fireworks displays.
"December in the alps, with the festive buzz, is arguably one of the most wonderful times of the year to experience a ski resort. It's a fantastic time to visit if you have a family and/or young children as the resort decorations and festivities add to the magic of Christmas for young children when they get to see the resort's Père Noel (Father Christmas)" explains Jane Bolton for ski holiday experts Erna Low
The slopes can get busy with families and party seekers heading to the Alps. You'll likely see large snaking lines of ski schools on the lower slopes.
That being said, the enormous ski area and high-speed lift system help to keep things moving. You can still find plenty of space on the pistes and short lift queues.
Off-piste skiing can be limited at this time of year. Often there is still a base forming for the winter, so things can get rocky if you pick the wrong route!
If you're staying for New Year's eve, then the snow front in 1850 is the place to be. You don't want to miss the incredible fireworks display and party under the stars.
---
Skiing Courchevel in January
Things start to get a little quieter in January. Once the school holidays are finished and the last of the NYE party seekers leave, you'll have the slopes to yourself.
Keen skiers love this time of year as the snow quality is guaranteed to be awesome with below-freezing air temperatures and a good depth.
You can ski the whole area without seeing a queue on the lifts. Get up and out on the slopes early to enjoy top to bottom runs without interruption!
A few dumps of snow deliver stunning off-piste conditions too. If you're lucky you'll be waking up to bluebird days of fresh snow and sunny blue skies. You'll be whooping and hollering through the trees of La Tania and 1650. Or you can head up high to the high-altitudes of Saulire where you can access Meribel and Val Thorens.
If you aren't restricted to school holidays, January offers amazing ski conditions and lower prices all round.
---
Skiing Courchevel in February
Life in the Alps tends to get busy during February. It's the peak weeks of the ski season, particularly during half-term school holidays in the UK. In addition, the French school holidays run throughout the month.
This makes it the best time to ski if you have a family with children. You are guaranteed to get good quality snow with all the pistes open and ready for your arrival.
You might want to pick your ski times and slopes carefully. For example, you can find quieter slopes and lifts during lunch when the ski schools take a break. Plus if you can, avoid the lower slopes first thing in the morning as ski lessons get organized for the day.
Thanks to Courchevel's incredible lift system and long wide slopes, you can still find great skiing. Lift queues move quickly and there are so many pistes to choose from. You'll quickly get to know where the popular lifts are and where the quiet options lie. Courchevel 1650 always offers tranquil slopes for an afternoon ski in the sun.
Away from the slopes, you'll find plenty of family friendly events, fun zones, fireworks displays, and much more. There's so much to do, you might need another holiday to recuperate after your ski trip.
One word of caution. Make sure you pre-book everything in February including ski school and ski rental. You don't want to miss out!
---
Skiing Courchevel in March
Personally, March is my favourite month to ski in Courchevel. You get a mix of everything you could want.
Firstly, the ski resort becomes very quiet after the mayhem of the school holidays. You can pick up some great deals on your trip.
The snow quality in March is a little secret. You have high snow depths built up over mid-winter, and it regularly snows throughout the month. Along with this regular snowfall, spring is on the way so there's a sunny afternoon to ski and relax! The best of everything.
With awesome snow and warmer weather, the slopes are very quiet. You could easily find you have whole pistes to yourself. You can happily lap your favourite lifts again and again without stopping. Ski every part of Courchevel, then pick a sunny day to explore far and wide across the Three Valleys. Don't miss out on pistes like Combe de Saulire, Jerusalem, and Grand Bosses.
Off-piste conditions are fun in March too. A strong base builds up through the winter, so any fresh snowfall is ready for big powder turns. A good time to book an off-piste guide.
Yes, March is a belter of a month. Plus the longer days, allow the lifts to open later into the afternoon. That means more ski time!
---
Skiing Courchevel in April
April marks the start of spring. Things get warmer as you enter the last three weeks of the ski season. Courchevel remains open until late April, usually closing down by the 4th week.
The Easter holidays give one last chance for families to get out to the Alps. Although, the slopes are nowhere near as busy as December and February holidays. Many people disregard April for skiing.
If you're tried spring skiing, you'll probably love it. There's still plenty of snow around with most of the lifts running. By the last two weeks, you might see the lower slopes close if it is too warm. Don't worry, The Three Valleys ski area is 600kms, so you'll still have a massive amount of skiing to enjoy.
Warmer sunny weather means you can get up early to ski most of the day. Often it's warm enough to ditch the jacket and ride in a jumper or t-shirt. Then sunbathe on a deck in the afternoon. Or grab a cold drink and find the apres ski hot spots.
Snow conditions can be variable, after 3pm things tend to get slushy (this can be fun if you've still got energy in the legs.)
One thing to note, by the final week of the season the Courchevel is very very quiet. You will have the slopes to yourself but many businesses close down and the ski bus reduces its timetable.
---
What is the Best Time to Ski in Courchevel?
I hope the first-hand information above helps you pick the best time to visit Courchevel.
As you have discovered, the quality of skiing is brilliant throughout the winter. The resort offers guaranteed snow from Early December until late April. There is an extensive snow-making system to ensure this.
Each month offers slightly different characteristics. If you have school age children then you'll need to stick to December and February, plus Easter gives you a quieter option too.
For keen skiers, January and March deliver the best conditions with big snow depths, fresh snow, and quiet slopes.
If you're a fair weather skier then April spring skiing is for you! The sun is warm in the afternoons, adding to this, the snow is soft and forgiving.
Finally, beware of the first and last weeks that the ski lifts are running. There will be a reduced service and some pistes will be closed. There are very few tourists, businesses start to close, and the resort is mainly local workers. If you're desperate for snow, then you'll still enjoy the empty pistes. You'll have a whole playground to yourself.