One of the biggest secrets about Courchevel is the off piste skiing.
You probably think of this ski resort as a place for the rich and famous to drink champagne and pose for Instagram pictures.
While everyone else is distracted, you can take advantage of world-class off piste skiing and snowboarding.
I'll probably get told off for writing this article, as the locals want to keep the best power turns for themselves. Fortunately, there's so much great skiing that it can't possibly fit into one article.
To start with, a word of warning.
Whenever skiing off piste ensure you have the correct safety equipment, training, and local knowledge. If you are in doubt, hire a professional ski guide! Don't rely on friends saying 'it'll be alright', especially if you don't have avalanche safety equipment.
Below you will find information on marked 'in-bounds' off piste, along with out of bounds areas. Be careful and take caution everywhere you ski. The areas below area a small taste of what you can find around the ski resort, you can also check out ski apps like Fatmap to give you updates and itinerary ideas.
To get you excited, check out this video of off-piste skiing and snowboarding in Courchevel:
---
Grand Couloir and Saulire
The Grand Couloir is one of the most famous off-piste ski runs in the world. It is a marked black run, but it never gets groomed. You'll understand once you see it. On a fresh snow day, you have to be first on the hill to get the best conditions as tourists flock here. It quickly becomes a huge mogul field.
It is one of several Couloirs on the Saulire mountain, you can ski the others further along but this involves a hike and climb to access so you'll need a guide.
How to access: Take the Saulire cable car to the summit. Then turn right as you get off. You'll see the ridge and access signs in front of you. Ski along the narrow ridge until it opens out into the black slope. It is marked with black poles. Once finished you'll end up halfway down the Combes de Saulire red run.
---
Freeride Lab
The freeride lab is a specialist off piste zone which starts from the top of the old creux noir piste and chairlift. The lift is no longer there and the area has been transformed into a marked freeride area for you to enjoy. You still need to wear a transceiver to enter this zone. You can check your equipment at the checkpoint on entry. Expect long wide-open power fields!
How to access: From the top of Saulire, ski straight down towards the Courchevel/Meribel rock and Cruex blue piste. Continue straight bearing slightly right behind the ridge. You meet a groomed track heading off to the left. From here you'll need to unclip and walk or use touring equipment. Follow the path upwards until you arrive. It takes about 15 minutes walking.
---
Creux Noir
Creux Noir is a legendary freeriding area which even features in ski movies! There's so much fun to be had here, but proceed with caution. This is an out of bounds zone and avalanches can be frequent in certain areas. If you want to get a good look at the area, ski down the blue Cruex run and look to your right. You'll see a huge bowl appear, often with ski tracks carving down it. Further round it gets even more aggressive with a number of steep couloirs for the bravest of riders.
How to access: Follow the same route as the freeride lab entrance. Once you've finished your hike to the top, clip on your skis and follow the ridge round. You come to the main bowl. Continue further to access the back couloirs.
---
Chanrossa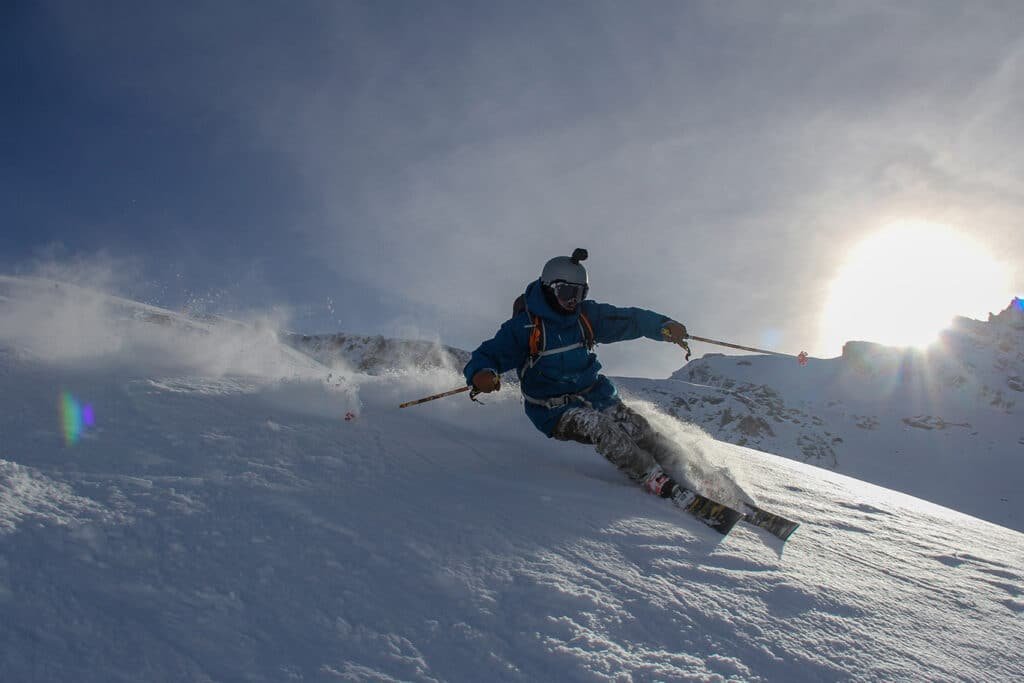 Take the Chanrossa chairlift and you'll instantly see this off piste skiing. You'll see tracks left and right of the lift. It is very easy to access this area right from the top of the chairlift. It can be dangerous here, so often the area and lift is closed during fresh snowfall. Safety teams need time to secure the area.
It is easy to be tempted into skiing off piste here. Afterall, it is an appealing power field right below a lift. Don't try it without correct safety gear and knowledge. It is still at risk of avalanche once the lifts open.
How to access: Take the Chanrossa or Roc Merlet chairlifts.
---
La Tania Trees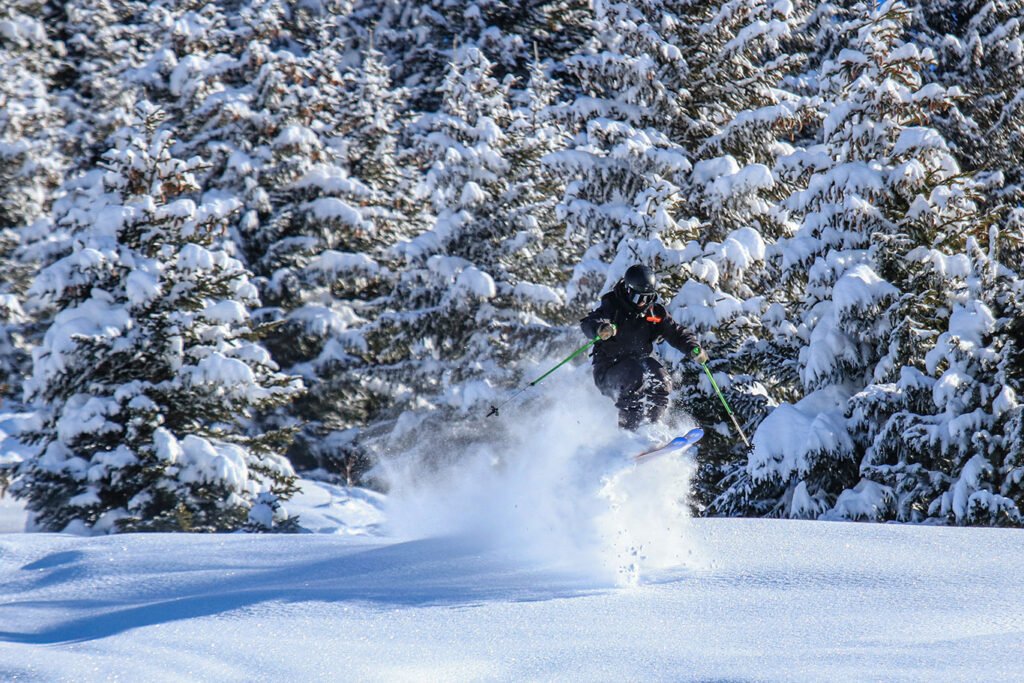 When the storms hit and the snow is falling, you'll be better off heading for the lower tree line. This gives you cover from the wind and better visibility. The trees above La Tania are awesome fun with pillows and lines through the snow covered branches. It is best to get here early on a powder day as it gets skied quickly. Avalanche risk is small due to the trees and mellow pitches, although you still need to take care.
How to access: Take the La Tania gondola or Foret chairlift. Then disappear into the trees, make sure to head left to end up towards La Tania.
---
Coqs Trees
Another tree skiing zone can be found under the Coqs chairlift. This has easy access from 1850. It is a mellow area with a wide-open powder field on entry which funnels into the trees. You'll end up back in 1850 once you pop out the bottom. Once again, trees help to reduce avalanche risk but be careful. It's likely to be tracked out quickly as people spot the area from the lift.
How to access: Take to Chenus gondola or Coqs chairlift. You'll spot your route from the lift!
---
Les Avals
If you're after a real backcountry adventure then ask a local ski guide about Les Avals. This route takes you way out of bounds towards the Vanoise National Park. If you don't know the area, it is essential to have a guide. There are no safety patrols and phone signal can be patchy. You could even stay at Refuge de Merlet, a small mountain cabin, overnight for a true adventure.
The skiing starts near the top of the 1650 ski area and descends into the remote valley. Enjoy fresh turns all the way down. Once you reach the bottom of the valley there is a walkout that takes around 30 to 40 minutes.
How to access: Hire an off-piste guide.
---
Off Piste in Courchevel Final Thoughts
Above is just a small selection of the options. After fresh snowfall all sorts of fun routes become available. In fact, the whole mountain becomes a blank canvas. Get up early and you'll be finding fresh turns everywhere you look.
When the obvious areas get tracked out you'll need to work a little harder for the best turns. Areas like the Freeride Lab, Saulire Couloirs, and Creux Noir need a hike or ski tour to access.
The information above is written to give you some ideas about what's on offer. You take your own risks when skiing off-piste so ensure you have the correct equipment, training, knowledge, and professional guide.