We tested and reviewed dozens of ski apps to find the absolute best from tracking, to maps, to mountain safety
The other day I realized I downloaded my first ski app over 8 years ago.
Not due to my sieve-like memory, but thanks to a screenshot of a ski tracker app clocking my 66mph speed.
Time flies quicker than my then raggedy, out of control, skiing.
I still have the same app on my phone plus a whole host more supplying data, tips, tricks, social and safety aspects on the slopes.
Over the years there's been a lot of apps that have been downloaded and quickly deleted.
And a small few that get the thumbs up to remain in the 'ski app' folder.
So if you're looking for the best ski apps then here's a tried and tested list of favourites to keep you ahead of the pack this winter.
Warning: The mountain environment is harsh. You can easily damage your phone due to cold weather, snow, and falls. We highly recommend protecting your device with a LIFEPROOF Otterbox Case
---
Best Ski Tracking App – Ski Tracks
Ski Tracks is the pretty much the original and most downloaded ski app in the world.
It's my most used app on the slopes and for good reason.
Ski tracks may not look fancy or the most modern design but when it comes to tracking there are none better.
Switch it on at the start of your day, collect a ton of data to reflect on and compare with friends once the ski boots are off and the beers are poured.
The main tracking screen supplies you with all the information you could imagine including:
Top speed
Total skiing distance
Vertical descent distance
Altitudes reached
Total runs
Average gradient
Terrain profile
You really can instantly dig down into your statistics without any complex maths or brainpower.
What I really love about ski tracks is its simplicity.
Although more mapping and social features have been added over the years it doesn't ever overtake the core functionality of tracking your ski day. The map feature is simple as it overlays your day's journey over a satellite map and you can geotag all of your pictures too.
Plus another bonus is that the tracking is done via GPS, not data so you don't have to worry about expensive data roaming if you're travelling internationally!
Ski Tracks, the original and still the best ski tracking app around.
Warning: The mountain environment is harsh. You can easily damage your phone when skiing. We highly recommend protecting your device with a LIFEPROOF Otterbox Case
---
Best Ski Map App – FATMAP
FATMAP first made its way into my consciousness back in the summer of 2014. The concept of 3D mapping for outdoor adventures was cutting edge back then and it was always going to be a hit, especially with off-piste skiers and ski tourers.
Since then the FATMAP app continues to go from strength to strength, now it is one of the first resources when picking out new adventures on the mountain.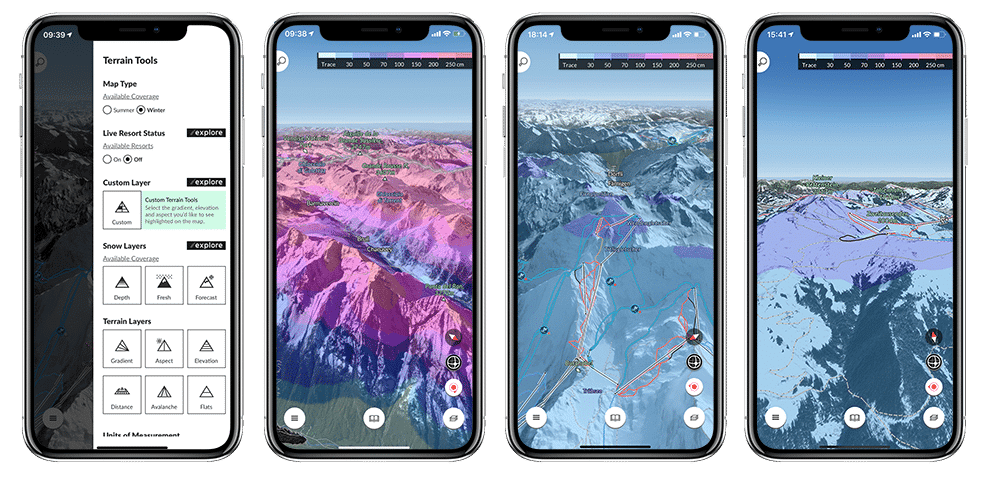 With all of the world's biggest ski resorts now loaded onto the app, you can jump into a 3D render of the terrain including all the marked ski runs and surrounding area.
It's awesome for scoping potential lines both on and off-piste!
What's handy is you can get started using most of the functions completely free before upgrading to the paid version which adds the ability to download apps to use offline.
The list of features is ever-growing and very impressive. The basics of marked ski runs and lifts make the mountain easy to navigate. For more advanced riders you can pick out your perfect freeride line using mountain peaks, gradients and conditions.
A cool addition is the use of local experts to outline popular off-piste spots. If you're visiting an unknown ski area you can instantly find the best powder stashes with markings on the map plus first-hand descriptions of access points and what to expect.
The only downside to this is that your local secret spots may well now be on the app for all to explore.
FATMAP is 100% the go-to ski map app for winter adventures.
---
Best Social Ski App – 4riders
Some people cringe at the thought of adding a social media style element to the ski slopes.
But it can't be denied there could be some cool and fun benefits to be found in linking up with your mates digitally on the slopes.
Great social ski apps have been hard to come by over the years. Many have risen before hitting the dust. I've seen many recommendations around the web, scoured the app store, and asked around only left to be disappointed. Snocru, SkiLynx and Snoww are among those to fail.
Good news though.
4riders is on its way to delivering a properly good social ski app. The platform mixes 3D mapping with the ability to track and communicate with your buddies.
Let's say you've been ripping around the mountain all day. Exploring new valleys, adventuring far and wide. As the sun starts to twinkle into the afternoon, you decide it's time to warm up with a mulled wine and some chips.
Instead of long-winded phone calls trying to explain where to meet, you can simply geo-locate everybody on a 3D map and invite everyone to meet at the best apres ski bar!
That's pretty handy.
Plus, thanks to some ski tracking tech you can compare your day's stats with your tribe to see who rules the day.
Warning: The mountain environment is harsh. You can easily damage your phone due to cold weather, snow, and falls. We highly recommend protecting your device with a LIFEPROOF Otterbox Case
---
Best Ski Coach App – Carv
We all want to be a better skier.
No matter how much you improve there always seems to be someone better flying past you on the slopes or putting in some epic turns as you ride the chairlift above.
If you're like me though, investing the time and money in more ski lessons doesn't feel like the best way to spend your holiday.
Sure, getting a private instructor is perfect for learning the basics or to grab a few extra tips every now and then.
For intermediate and advanced skiers, wouldn't it be awesome if there was an app that could hone your technique and provide feedback on your skiing?
Well, there is and it's called Carv.
Carv is the most forward-thinking advanced ski app out there.
The digital ski coach connects to your ski boots and tracks your every movement to analyse your technique.
It uses advanced motion and pressure sensors to map out your technique before delivering real-time audio feedback.
Crazy!
It's so good that the Smart Insole to place in your ski boot sold out almost instantly upon release.
Carv ski coach app is free to download in order just to use the ski tracking app while the Smart Insole will set you back £349.
To be fair, that's a lot of money to pay for a ski app but when compared to ski lessons it's a bargain.
Plus based on your Ski-IQ you'll receive training drills and fun games to improve your skiing.
Carv, definitely the most innovative ski app around right now.
---
Best Weather and Snow Report Ski App – OnTheSnow
Spend any time at all in a ski resort and you'll soon realize the biggest conversation topics are snow conditions and the weather forecast.
Everybody wants to know what the snow is like right now plus what's on the horizon.
There's a unique buzz in a mountain town when fresh snow is on the forecast.
To stay in the loop, a decent snow report and weather app is essential.
Not only will you be able to chip into conversation but you'll also be able to plan your ski days around weather and snow conditions.
You don't want to miss out on the best snow, do you?
OnTheSnow packs all the information you could need into one awesome snow report app.
It leads the way in providing live snow and weather for more than 2000+ ski resorts across the globe – from Courchevel to Queenstown!
Select your mountain to see the weather forecast including incoming snow, freeze levels and much more.
Grab daily snow reports to know where to head for the day and even set a powder alert to never miss out on fresh tracks.
What takes things one step further is the ability to view live webcams, photos from fellow skiers and GPS enabled trail maps.
Realistically, OnTheSnow in the only weather and snow report app you need, it's got everything in one neat package.
---
Best Mountain Safety Ski App – Cairn
Finding a stellar mountain safety ski app is not easy.
Many seem to be packed with useless functions or are not geared towards skiing.
There's one main thing I want if I get into trouble on a ski adventure – To let someone know there's a problem and where to find me!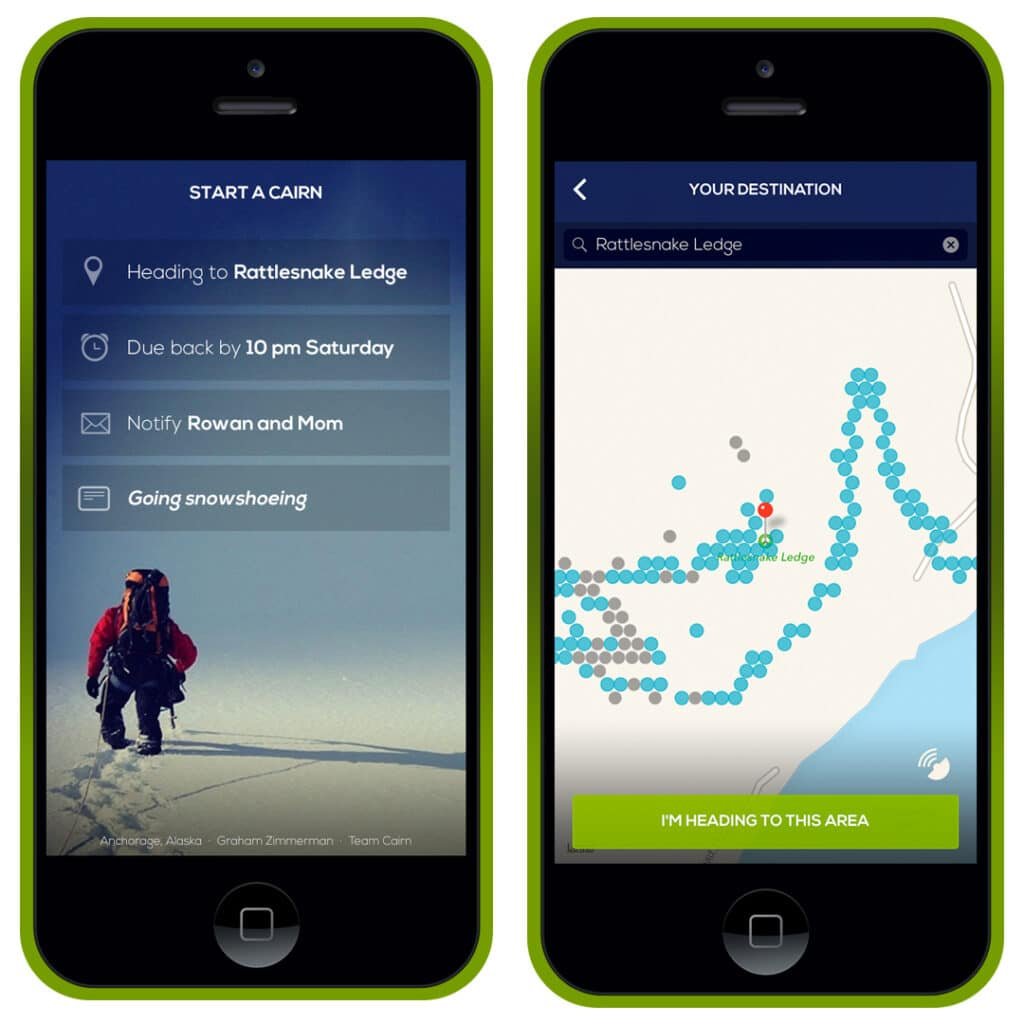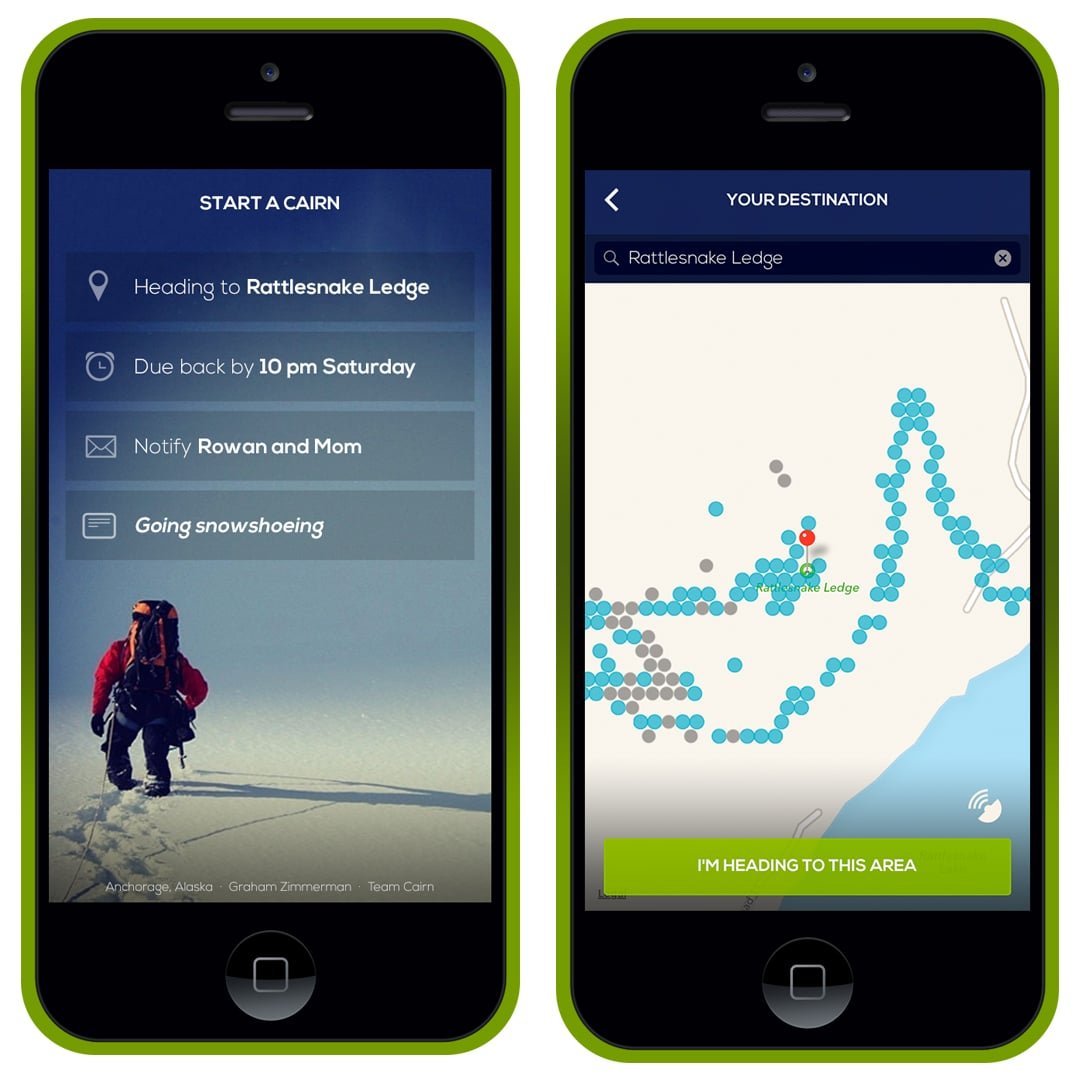 Cairn helps you get home safely from your adventures using live tracking, smart notifications and rescue advice.
The neat thing is that it doesn't just track your location but it allows you to share your plans with friends and family so they know exactly where you are going.
You can also include timings and when you are due back, should you not check-in a notification is sent to your chosen contacts to let them know you are overdue.
Plus if you're simply running late and have no cell phone reception you can use offline maps to find signal hotspots nearby.
Live tracking also helps contacts see your GPS location during your trip.
Not only is it awesome for on and off-piste skiing adventures but you can use it for just about any adventures including hiking, fishing, climbing, camping or horse riding.
Warning: The mountain environment is harsh. You can easily damage your phone due to cold weather, snow, and falls. We highly recommend protecting your device with a LIFEPROOF Otterbox Case
---
Best Ski Deals and Discounts App – Liftopia
Everybody loves saving a few quid.
Whether you're a penniless ski bum or the owner of a luxury ski chalet, you're going to need a lift pass.
Happily, discount lift ticket website Liftopia now offers an app for you to find the best deals on the go.
It's super easy to use and you don't have to sift through endless amounts of information you don't need.
Simply jump onto the app, choose your country or state, plug in your ski trip dates, and let the internet do the magic.
If you know which ski resort you're heading to then you might well strike lucky and find a discount lift ticket or even a bundle including your ski rental.
Or if you're still in the planning stage then Liftopia gives you all the best deals in the local area.
What I love about the app is that it can help you find hidden ski resorts for great prices.
For example, those who may usually ski The Three Valleys in France might not know about the local resort Pralognan around the corner.
Using Liftopia, you can find super cheap lift passes for this sneaky hidden away French resort where you're likely to have the slopes to yourself compared to its world-famous neighbours.
So not only does Liftopia help you save money on lift passes, snowboard and ski lessons, gear rental, it enables you to discover new ski resorts plus in-depth mountain information.
If winter travel is your thing, then give this ski app a go.
---
The 7 Best Ski Apps: Final Thoughts
There we have it, after years of testing out dozens of ski apps the selection listed above are the top 7 to cover your needs on the slopes.
Whether it is an app to track your ski stats, 3D mapping to plan your adventure or simply a way to save money there's the technology to make life easy right in the palm of your hand.
I will say one final thing, don't forget to put your smartphone away every once in a while and simply enjoy your ski trip.