Courchevel Ski Resort spans across 5 villages winding their way up the Saint Bon valley. Each Courchevel village offers its own unique charm and atmosphere, so there is truly something to suit every style.
Choose from the glamourous Courchevel 1850, laidback Courchevel Moriond (1650), quiet Courchevel Village (1550), rustic and charming Le Praz, or family-friendly La Tania.
Wherever you stay in Courchevel you'll love the access to over 600kms of piste skiing in The Three Valleys, easy travel between the villages, and all the luxury you've come to expect.
Still deciding where to stay on your Courchevel ski holiday?
Let's take an in-depth look at Courchevel's villages and all they have to offer.
---
Courchevel 1850
Courchevel 1850 is the highest altitude village sitting at 1850 metres and its reputation matches is altitude as the pinnacle.
It's the world's most exclusive ski resort where you'll rub shoulders with the rich and famous at every turn. Both on and off the slopes. Who knows who you'll be sharing a chairlift with?
Wooden and stone-built super chalets line the slopes and blend in amongst the trees. Ski-in/ski-out luxury accommodation spreads across the mountain especially high up in the Jardin Alpin, Bellecote and Chenus sectors. Step out onto the slopes in the morning and glide straight into the spa in the afternoon.
A 5-Star Ski Resort
From your Courchevel 1850 accommodation, you can clip in and ski directly into the heart of the main ski area. Jump on the Saulire gondola to soar up to the summit of 2738 metres. Learn to ski on the graceful beginner slopes of the Jardin Alpin and Bellecote. Or if you're feeling bold, challenge yourself on the infamous Grand Couloir…
You can even arrive in true Courchevel fashion via the private altiport overlooking the resort. Stroll around the twinkling town and you won't be let down. Michelin Stars on every other door with a Rolls Royce stopped outside. Indulge in the most fashionable shopping locations, Prada, Gucci, Channel or browse the diamond gallery.
Courchevel 1850 is the international skiing destination for all occasions – 5* hotels, super chalets and cosy apartments all boasting luxurious mountain charm and stunning views.
Read more about Courchevel 1850
---
Courchevel 1650 – A Laidback Hangout
Courchevel Moriond (also known as 1650) is more laidback, perched on the eastern edge of The Three Valleys at 1650 metres.
It is a particular favourite for those looking for a relaxing ski getaway filled with lively apres ski and value for money. Don't be fooled though, you'll still find the classic Courchevel luxury in 1650.
There's a saying "It's always sunny in 1650".
Bask in the afternoon sun terraces, explore the local bars where the ski instructors apres in true alpine style, and grab a filling cheese fondue at any number of local restaurants.
The ski area feels like its own private playground hidden away from the busy main slopes. Wide-open, easy-going, sunny slopes offer heaps of fun for every type of skier. It's a tranquil ski spot even on the busiest peak weeks. Plus 1850 and The Three Valleys are instantly accessible via 1 chairlift or a 5-minute bus ride/drive.
Read more about Courchevel 1650
---
Courchevel Village 1550 – Luxury And Tranquility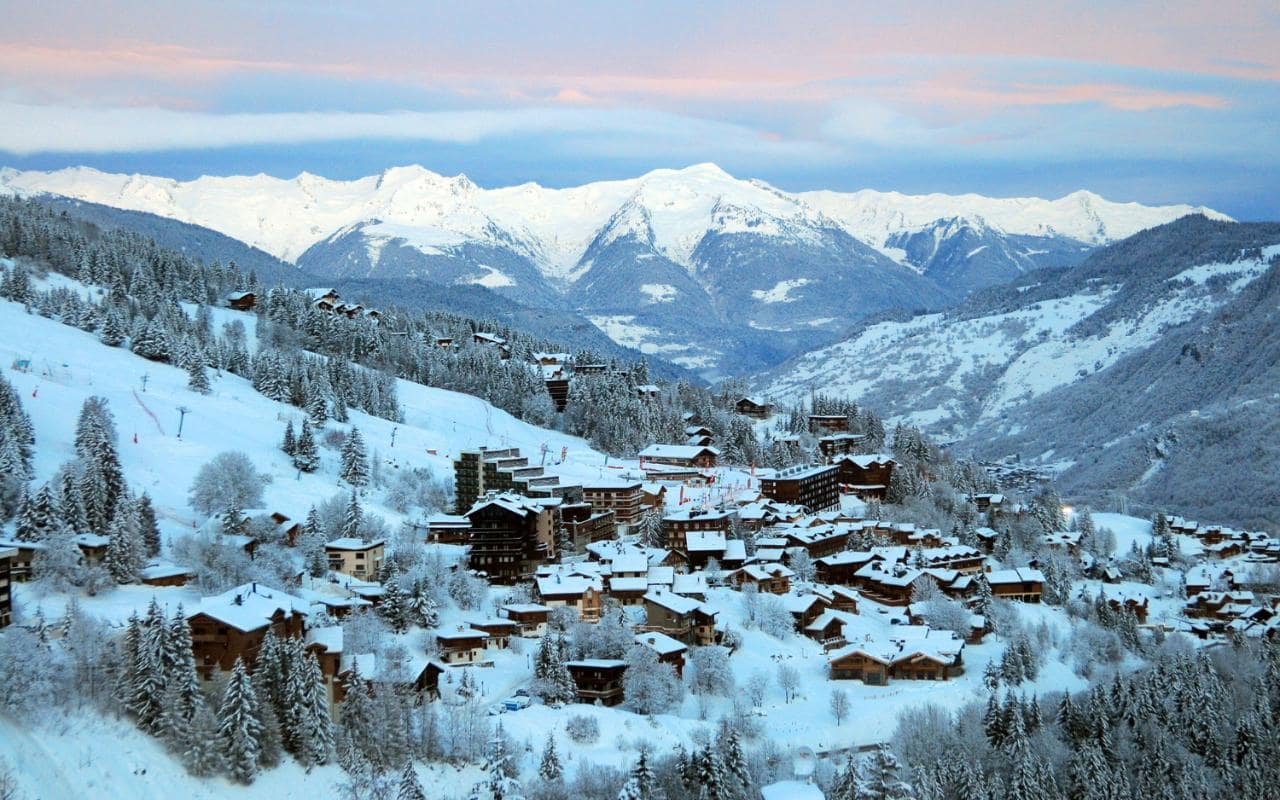 Courchevel Village (also known as 1550) is a quiet place to hide away out of the limelight.
Nestling at 1550 metres, the village still offers ample luxury with spacious chalets to fill with the whole family or cosy apartments for a romantic getaway.
Happily, it is only 5 minutes, via one lift, to arrive in 1850 as a skier or pedestrian. From 1550 you can instantly access the whole Courchevel ski area or simply pop into 1850 for fine dining and shopping.
Small establishments line 1550 village for you to hide in local rustic alpine bars, refuel on Savoyard meat and cheese, plus grab all the ski essentials.
Read more about Courchevel 1550
---
Le Praz – Rustic Alpine Charm
Le Praz is the lowest altitude of the Courchevel villages on the 1300 metre plateau.
You'll love the discreet rustic charm Le Praz offers. The village keeps its authentic alpine soul while blending in with Courchevel's luxury.
Among the mazy streets, you stumble upon glorious chalets and modern apartments. Wine bars and eateries hideaway off the roadside plus keep your eyes peeled and you'll find some Michelin star delights.
A newly redeveloped snow front and lift station transform Le Praz into the gateway to Courchevel with an iconic Olympic ski jump backdrop.
Rocket up the modern gondola in 6 minutes to arrive in the heart of Courchevel 1850 town and ski area. Skiers also love jumping on the high-tech Foret chairlift for instant access to the Loze and La Tania ski areas which attach to Courchevel and Meribel.
Le Praz strikes a fine balance between mountain life and that unique Courchevel flair.
---
La Tania – Value For Money Family Friendly Skiing
La Tania, built at 1400 metres for the 1992 Winter Olympics is now a family-friendly, value for money, ski resort linked directly to Courchevel ski area and bus route.
Sitting on the mountain road between Courchevel and Meribel, La Tania's chalets wind up through the hillside in a thick forest.
It's ski-in/ski-out, you can even ski right through the middle of the pedestrianized village.
Shops, bars, and ski rental all line the snow front while eateries for all budgets serve lunch and dinner. Choose between cheap snack lunches and full Michelin star experiences.
Step onto the ski lifts to access Courchevel 1850 and Meribel within 2 lifts or explore even further afield in The Three Valleys. The La Tania ski area is a perfect place to ski in amongst the trees when the weather sets in, the wind blows and the snow starts to fall.
---
Courchevel Villages and Ski Resort
5 unique worlds all boasting their own take on luxury, relaxation and winter activities.
Wherever you end up in Courchevel, it's easy to get around via the modern highspeed lift system, free bus route or private shuttle.