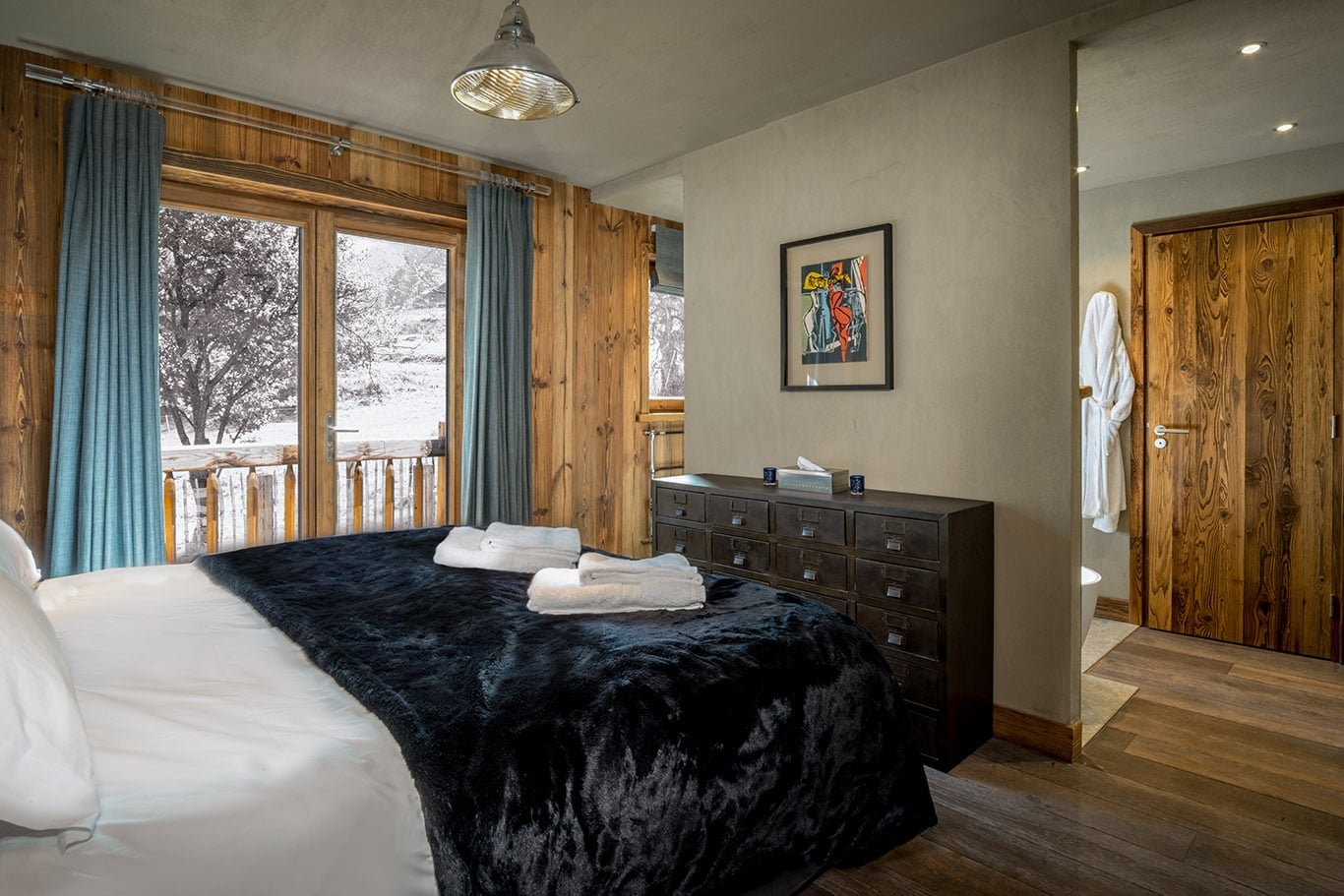 Chalet Dulcis Casu is a tranquil, luxurious, ski lodge hidden away among the charming streets of Courchevel Le Praz.
Lose yourself in a picturesque winter holiday in the heart of the rustic alpine village of Courchevel Le Praz at Chalet Dulcis Casu.
Chalet Dulcis Casu hides away among mazy mountain streets and on approach to your luxury home for the week it feels like stepping into a postcard in this traditional French village.
From £10,680 | Sleeps 12 – 14
5* tranquillity nestling in a charming mountain village
Bring the whole family to relax in this stylish alpine retreat which hides away for a quiet yet fabulous ski holiday.
This unique chalet mixes luxe ski lodge with an eclectic Manhattan hideout, featuring classic mountain reclaimed timber, swirling metal bistro lights, and velvet designer chairs.
Even a big bull's head hanging from the wall of the living area amuses as you first explore.
Friendly faces of the Alpine Escape staff greet you as you step into the gorgeously furnished chalet.
Heartwarming comfort awaits you with a luxurious relaxed atmosphere.
Melt into soft leather sofas next to a roaring wood fire as the evening draws in.
Sip on a glass of French champagne, laugh and joke with your loved ones, and gaze up at the rouge sunset lighting up the iconic Grand Bec mountain.
All the while, mouthwatering scents flow from the kitchen where your private chef prepares an exceptional dinner.
Each morning, throw back the curtains from one of six bedrooms to reveal the snowy village and twinkling ski slopes.
Fuel up for the day with a fresh breakfast including traditional french croissants and pain au chocolat.
Breathe in the morning air with a hot cup of coffee as the first sun glints over the peaks to the east.
It's time to clip on our ski boots and head out onto the perfectly manicured slopes of Courchevel.
A 2-minute walk to the highspeed Le Praz gondola or Foret Chairlift whisks you off into the hills to explore the largest ski area in the world.
Plus if you need to get around, an all-day driver service is ready to guide you on a trip around the Courchevel villages or take you on a boutique shopping trip.
Once your ski legs are done for the day, amble back to the chalet for afternoon tea.
Need to get rid of the aches and pains?
Simply, pop into your indoor pool, hammam, massage room, and outdoor hydrotherapy spa in the courtyard.
Dulcis Casu from Alpine Escape brings everything you expect from a Courchevel ski chalet from a tranquil rustic alpine location.
You can't help but love the perfect balance ski lodge, stylish interior, and pure comfort.
What's included:
6 en-suite Bedrooms
12-14 people
Personal concierge
In-resort chauffeur
Catered with private chef
330 m2 of living space over 3 levels
Central village location, 150m from high speed lift
Swimming pool with current water flow
Hammam with shower and changing area
Massage treatment room
Courtyard hydrotherapy spa
Study / TV room
Full Sky package,
SONOS WiFi music system – Free WiFi
Green & Spring toiletries, Albus & Flora lip balm
Hairdryers, Egyptian cotton bed linen, towels and bathrobes
Ski room with boot warmer and drying facilities
Off-road parking
Electronic safes in all rooms
Open bar
Afternoon tea
Address
Dulcis Casu , Le Praz, Courchevel, France 73120