We searched the ski shops in Europe's most exclusive resort to help find your new winter wardrobe
Luxury Ski Wear Brands You'll Love
Setting your gaze on the ski jacket that makes your eyes light up.
Pulling on the piece of your winter wardrobe just feels right.
Discovering your statement jacket to draw all the compliments.
It's all a part of building your excitement for a stunning ski trip.
Designer ski wear isn't just for ski companies either, walk the streets of ski resorts like Courchevel and you'll see every boutique brand delivering a unique winter look.
If you're looking for the most luxurious brands to choose for your new ski wear then keep reading.
We've taken the time to visit the ski shops in Europe's most exclusive resort to help find your new winter wardrobe.
---
Toni Sailer
Raise your energy, feel fresh, and turn heads in your crisp Toni Sailer ski wear each winter. It's a delicious recipe of detail, tailoring and colour. Not an angle is missed in the design of each standout piece. Find your perfect winter look with a distinctive profile, personal character, technical excellence and craftsmanship.
Olympic champion Tony Sailer brings the legendary name to ski wear with youthful branding, finest materials and distinguished partnerships.
Pick out every layer from baselayer to outwear to build an electrifying look for your ski trip.
---
For those who want epic warm wherever you venture, coupled with complete comfort and luxury then take a peek at Canada Goose. This Canadian brand started in a small warehouse in Toronto in the 1950s and the expert craftsmanship now graces ski resorts across the world. From stitch to zipper, you'll love every minute detail with nothing spared when it comes to quality.
Ultra warm, meticulous design, and the final piece to complete your look or adventure.
---
Bogner
No matter where you are, being seen in a Bogner jacket and people will know you're a serious skier. Boger has become synonymous with sophisticated ski wear since Willy Bogner launched the German brand in the 1930s. Adding in some Nordic roots brings an unparalleled combination of function and fashion. Both men and women can choose from the distinct collections each winter.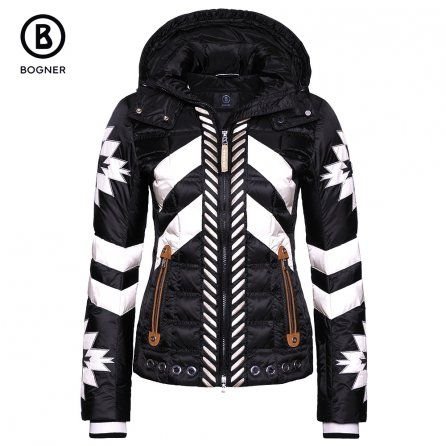 Find your perfect technical jacket with refined details, fur linings, uncompromising down and polished accessories to complete your outfit.
---
Moncler
Moncler is born in the Alps. As you walk the snowy streets of ski resorts like Courchevel, you'll find Moncler glinting in the warming morning sun and glowing under rouge sunsets. With Moncler you'll be pulling on true alpine style. Effortlessly shield yourself from the elements and stand out on the slopes in equal measures.
Once a sleeping bag company, now an icon of luxury ski wear that knows how to blend authentic mountain look with warmth and modern style.
---
Fusalp
Be at one with your outwear as Fusalps' tailored style gives your skiing a stylish boost.
Another alpine heritage brand dating back to 1952 that understands how to give you a sporty look accented with a dynamic silhouette for men and women. In its own words, the brand is a "Creative spirit of an iconic brand founded by tailors".
You'll be wrapped in French elegance with alpine lines inspiring a slender look. Performance combining comfort without sacrificing on cut and style.
---
Goldbergh
Shine this winter with a whole new wardrobe from Goldbergh. You'll love this blend of female fitness wear coupled with innovative and detailed design to keep you active yet stylish on the ski slopes. Your centrepiece outerwear leaves you feeling elegant yet sporty in your choice of jacket and ski pants. Match your outfit with casual wear to keep you snuggly in your ski chalet plus something to stand out at apres.
Think classic with a modern twist lined with glamour and fur.
---
Poivre Blanc
Whenever you slide on a high-quality weel designed ski jacket everything just feels classy, from the stitch of the cuff to you love the way you feel about yourself. That's exactly what you get from Poivre Blanc as you run your hands down the outerwear which ooze with attention to detail and remarkable embroidery. Launching its first winter collection in 1989, the luxury ski brand focuses design principles on the latest trends while keeping technical quality and comfort throughout the garments.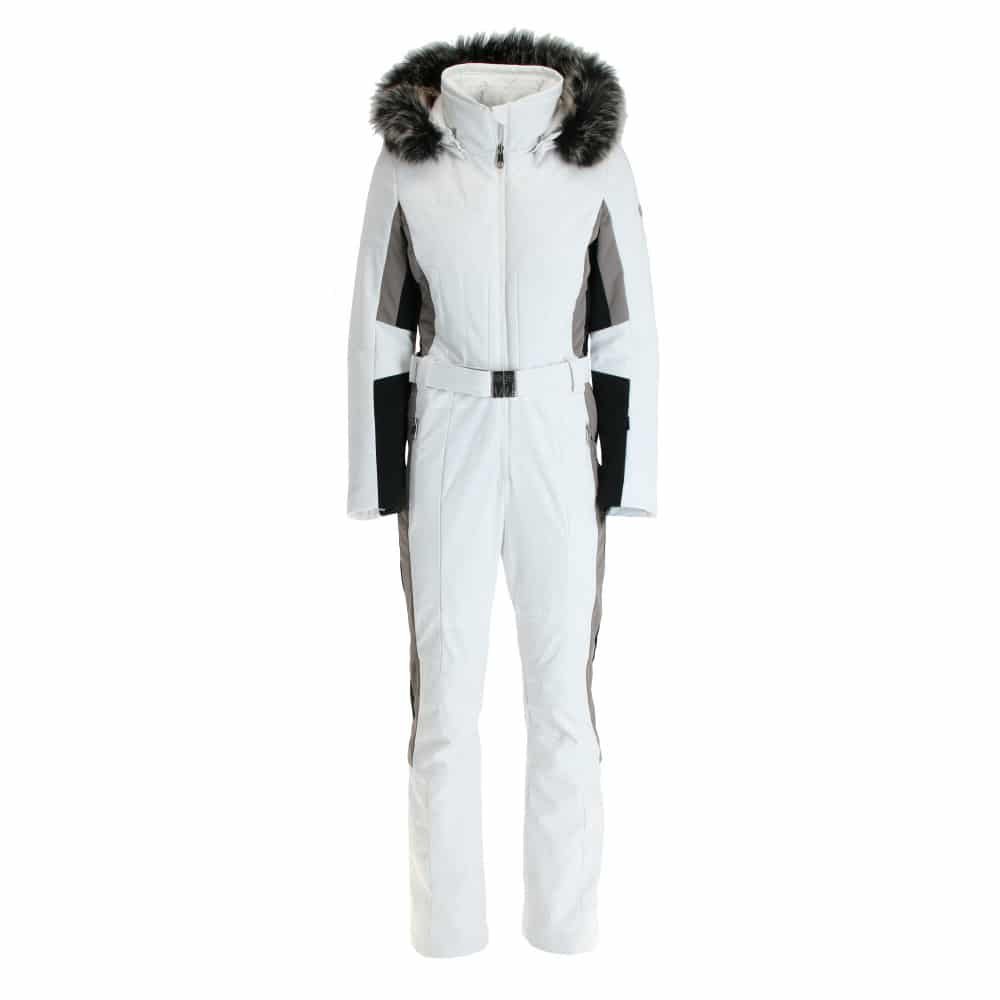 The European brand has now spread across the globe, you're just as likely to see the golden logo in Harrods as you are in Courchevel or Russia.
Revel in elegance with a touch of vivid colour to stand out in an A-list ski resort.
---
Kjus
If you want to push the boundaries with your skiing and your style then Kjus is for you. A modern ski brand innovating a mix of technical quality lined with luxury. Founded by ski racer and Olympic Champion Lasse Kjus, you'll look elegant in the mountains without sacrificing agility and range of movement on your skis. In fact, you'll look the business both on the slopes and around resort.
---
Perfect Moment
Inject retro style mixed with dazzling, original, modern twists. This is ski wear searching for your 'Perfect Moment' in the mountains delivering an experience with bold design. Born in Chamonix in 1984, it adds unmissable style to your skiing. You'll be making a statement in design while still being to thrill with your skiing.
Fashion, form and function for high performance on and off the snow.
If you're looking for luxury designer ski wear then you're in luck. Skiing is a sport with VIP treatment at every turn. A new centrepiece ski jacket or a complete winter wardrobe? The brands above will enable you to create your own iconic style on the slopes.
---
How To Choose Your Luxury Ski Wear
Insulated or Shell Ski Jacket?
The first thing you want to decide on is the insulation level of your ski jacket. This helps you pick out the rest of your ski wear including underlayers and an overall style. Generally, you can choose between a thicker insulated jacket or a waterproof outer shell. Opting for a 'shell' jacket means you'll need to wear additional layers in mid-winter but maybe nice during warmer spring skiing days.
Fully insulated ski jackets are warmer and need a fewer layer underneath but can lack versatility in changing weather. You'll be nice and toasty on the coldest days though! There are two types of insulation – natural or synthetic. Natural down insulation is a little less bulky than synthetic padding and is generally considered a luxury option. You can still get a gorgeous fitted look with natural down insulation.
Shell jackets also come in 2 varieties – soft and hard. Softshell jackets use highly breathable materials which makes them easy to pack and great in warmer weather. Hardshell jackets offer superior waterproofing and windproof and as there is no insulation, they're easy to pack. Many skiers now, opt for hardshell jackets with multiple thermal layers underneath to keep warm. It helps to add flexibility to your outfit depending on the weather!
---
Waterproofing and Breathability
When comparing ski wear you're going to meet all the technical numbers relating to the fabric's waterproofing and breathability. At first, it will seem like complete gibberish. Waterproof is measured using the height in millimetres of liquid that can build-up on fabric before it starts to leak. Breathability is calculated by how many grams of water vapour pass through a square metre of material in 24 hours.
For a high-quality piece of outerwear, you want waterproofing of at least 10,000mm. Ideally, if you're spending a lot of money it should be above 20,000mm! When it comes to breathability you should look for 20,000g or more for a highly breathable fabric. Waterproofing obviously keeps you dry but breathability is just as important helping you to stay comfortable, warm and not get too sweaty.
Some fabrics are also graded with technology like Gore-Tex – this is an even higher level of waterproofing and durability.
---
Fit and Fabric
The weight and weave of the material used on your outerwear is another little factor to consider. The very best jackets use two or three layers of tightly woven fabrics to create a durable hard wearing piece of outerwear. Combine high quality well tailored outerwear with a fit that suits your style. Want that glamorous sunny weather piste skiing look? Then look for fitted, thinner, lightweight styles. More aggressive skiers might opt for a more technical sporty look to aid movement and protection.
---
Vents and Pockets
Take the time to inspect the features of ski wear. Vents and pockets can make or break a ski suit. No venting or small pockets can just get hot and frustrating. Underarm and leg vents are handy to allow hot air out and cool air in without having to unzip the whole jacket or overheat.
Pockets come in all shapes and sizes to suit a growing number of gadgets and accessories. Big mesh pockets on the inside of a jacket are ideal for storing your ski goggles while break pockets add perfect storage for media devices. The most useful of all is a little left forearm pocket to store a wireless lift pass.
While checking out different pieces of outerwear keep an eye out for added bonuses like goggle wipers, extra padding in elbows and knees and safety Recco reflectors.
---
Hoods and Skirts
Many ski jackets offer either fixed or detachable hoods. Technical jackets even have lightweight hoods to fold away into the collar. For the ultimate luxury look faux fur lining to a hood adds a touch of winter style for a super snuggly look. Don't forget to check the size of hood too, often they can be large enough to fit over ski helmets to keep you extra warm out on the mountains.
A unique addition to ski jackets is the elastic snow skirt sitting around the bottom of the inside lining. This helps to keep snow from getting underneath your jacket into your lower layers. Plus if you buy ski jackets and pants from the same brand, the snow skirt can even include a zipper to attach the jacket and pants together for ultimate snow protection!